Details: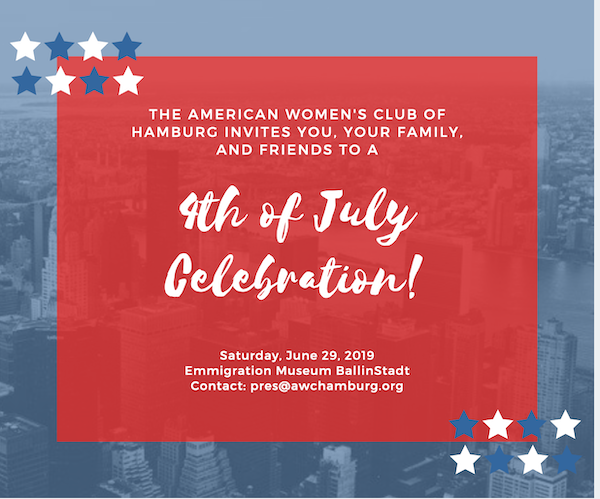 The American Women's Club of Hamburg cordially invites you, your family and friends to a 4th of July  celebration on Saturday, June 29, 2019  at  the Emigration Museum BallinStadt—"the port of dreams". There are three options for getting there: ferry, car or public transportation. We will meet in the foyer of the museum for a short introductory lecture. Afterwards in the museum's restaurant "Nach America" there will be a barbecue  with "Ballinburgers", the trimmings and our home-made American desserts. Weather permitting, we will celebrate outdoors in the courtyard. Whether indoor or out, there will be games and activities for children. An optional visit to the new award-winning exhibitions in the museum's historical halls will also be possible. 
We invite you to bring a traditional American dessert to serve 8. All contributions will be greatly appreciated.

We're looking forward to a fun event with adults and children. We hope you can join us.
Prices:
Travel by ferry: Members and partners: €18.00; Non-members: €28.00; Children: age 0-4 free, age 5-15 price is equal to age.  Prices include: The Maritime Circle Line ferry round trip between the Landungsbrücken and the Ballinstadt with a tour of the harbor. The lecture introducing the Emigration Museum BallinStadt. A non-alcoholic drink and a grill plate—a hamburger, turkey-burger or veggie-burger with condiments and toppings; wok vegetables; and potato wedges with sour cream.
Travel by car or S-Bahn (5-minutes from the Hauptbahnhof): Members and partners: €10; Non-members:€14; Children: age 0–10 free, age 11–15 €5.
Not included is the reduced museum entrance fee of €8.50 (€6 for children 6–12 years) for the exhibitions. If you want to visit the exhibitions, please pick up an AWCH voucher from Carol S. to get the reduced rate.
RSVP EXTENDED to Wednesday, June 19.
For more information please contact Carol S. at pres@awchamburg.org.