Details: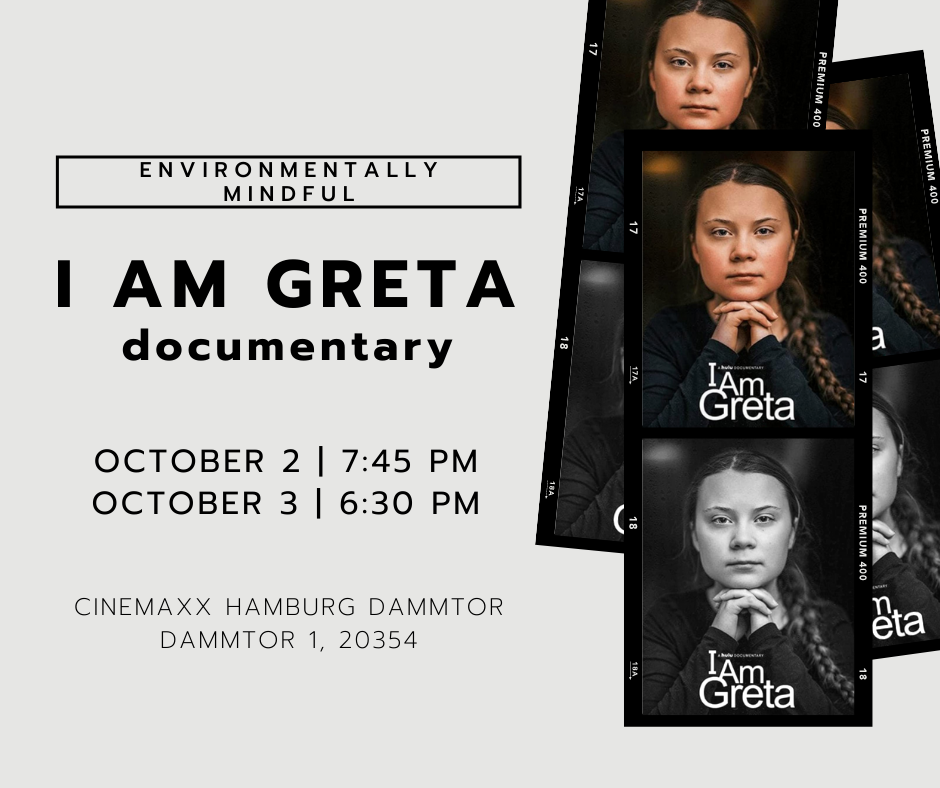 I Am Greta: Film Documentary and Meetup
The Environmentally Mindful Group (EM) invites you to a screening of: "I Am Greta", showing at the Hamburg Filmfest. A story of teenage climate activist Greta Thunberg told through compelling, never-before-seen footage in this intimate documentary from Swedish director Nathan Grossman.
Starting with her one-person school strike for climate action outside the Swedish Parliament, Grossman follows Greta — a shy student with Asperger's — in her rise to prominence, and her galvanizing global impact as she sparks school strikes around the world. The film culminates with her astonishing wind-powered voyage across the Atlantic Ocean to speak at the UN Climate Action Summit in New York City.This film is in English and Swedish OV with English subtitles
This event is open to non-members and their families.
Please purchase your own tickets and select seats with the link below. Tickets may sell out quickly, so please do this SOON.
The EM Team would like to organise a table for people to meet before or after the film. If you would like to join us sign up below after you buy your ticket and we will be in touch. This meetup will be limited to 10 people.
Film showing time: Saturday, October 3 @ 6:30 PM . Please remember to bring a mask.
Tickets: https://filmfest-hamburg.reservix.de/p/reservix/event/1607934
Trailer: https://youtu.be/ByO1JxQ6e6M
COVID-19 rules: https://www.cinemaxx.de/gesundbleiben