Details: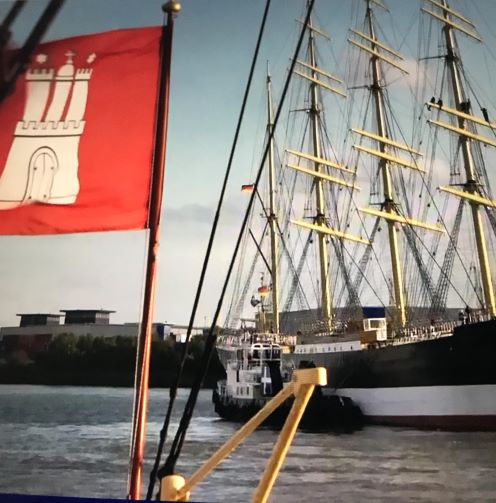 Harbor Explorers: Hafenmuseum
A Dockside View of the Peking
Wednesday, October 7th at 12:00
This month the Harbor Explorers will be taking a peek at Hamburg's newest attraction, the 4-masted barque Peking. This beautiful trading ship, one of the famous Flying-P series owned by Laeisz and constructed in 1911 by Blohm and Voss, arrived in Hamburg on September 7th after extensive renovation to restore its original condition. For more information see https://en.wikipedia.org/wiki/Peking_(ship)
The Peking is now in its permanent position on Bremer Kai as an exhibition of the Hafenmuseum; grand opening to actually walk through the ship is now scheduled for summer 2021. In the meantime we can view the ship from the Kai, and take a walk through the Hafenmuseum.
All kinds of massive historical cranes and mechanical devices used in the harbor at the time before containers changed everything are on display. We can walk through these, and have a coffee break in Hamburgs last historical Kaffeeklappe located in Warehouse (Schuppen) 50A. This workers' cafe has warm and cold drinks and cake; bring a sandwich to supplement this for lunch.
This outing is mostly in the fresh air; bring your mask to wear in interior spaces. We will meet at 12:00 at the entrance to the museum. Total time 2-3 hours (you may stay at the museum as long as you wish and leave on your own schedule).
Getting to the museum is part of the exploration: bikers can take the old Elbtunnel and continue 4 km to the museum. For walkers it is a 1.5 kilometer walk from S-bahn Veddel, or splurge on a Moia taxi to get there- there are numerous possibilities. A parking lot is available, and Ann can offer a few people a ride back into the city to expedite the return trip for walkers.
This event is strictly limited to 10 people for Covid safety. Sign up by pressing the Yes button below. Guests and friends are welcome.
Cost: 6,50 € for the museum and the cost of what you order and pay yourself.