Details: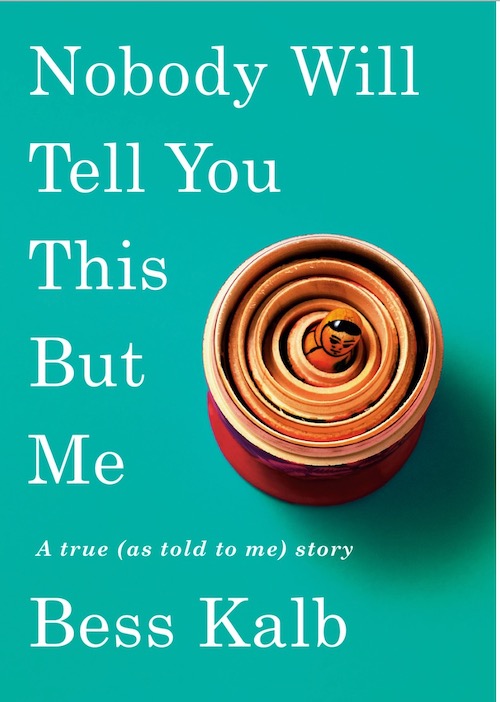 Nobody Will Tell You This But Me: A True (As Told To Me) Story
by Bess Kalb, 224 pages
Virtual Book Club Meeting
You are invited to a virtual meeting to discuss Bess Kalb's Nobody Will Tell You This But Me—a funny and touching book about four generations of women.
"Bess Kalb, Emmy-nominated TV writer and New Yorker contributor, saved every voicemail her grandmother Bobby Bell ever left her. Bobby was a force–irrepressible, glamorous, unapologetically opinionated. Bobby doted on Bess; Bess adored Bobby. Then, at ninety, Bobby died. But in this debut memoir, Bobby is speaking to Bess once more, in a voice as passionate as it ever was in life.
Recounting both family lore and family secrets, Bobby brings us four generations of indomitable women and the men who loved them. There's Bobby's mother, who traveled solo from Belarus to America in the 1880s to escape the pogroms, and Bess's mother, a 1970s rebel who always fought against convention. Then there's Bess, who grew up in New York and entered the rough-and-tumble world of L.A. television. Her grandma Bobby was with her all the way–she was the light of Bess's childhood and her fiercest supporter, giving Bess unequivocal love, even if sometimes of the toughest kind.
With humor and poignancy, Bess Kalb gives us proof of the special bond that can skip a generation and endure beyond death. This book is a feat of extraordinary ventriloquism and imagination by a remarkably talented writer."
https://www.penguinrandomhouse.com/books/580375/nobody-will-tell-you-this-but-me-by-bess-kalb
The paperback edition is forthcoming but it is available as a Kindle and an ebook. You will find an excerpt published in the New York Times :
https://www.nytimes.com/2020/03/17/books/review/nobody-will-tell-you-this-but-me-a-true-as-told-to-me-story-by-bess-kalb-an-excerpt.html
and The New Yorker:
https://www.newyorker.com/humor/daily-shouts/nobody-will-tell-you-this-but-me-phone-calls-with-my-grandmother
Contact for the Zoom link: Carol S at bookgroup@awchamburg.org
We hope you will join us!