Details:
Celebrating Women Who Tell Our Stories!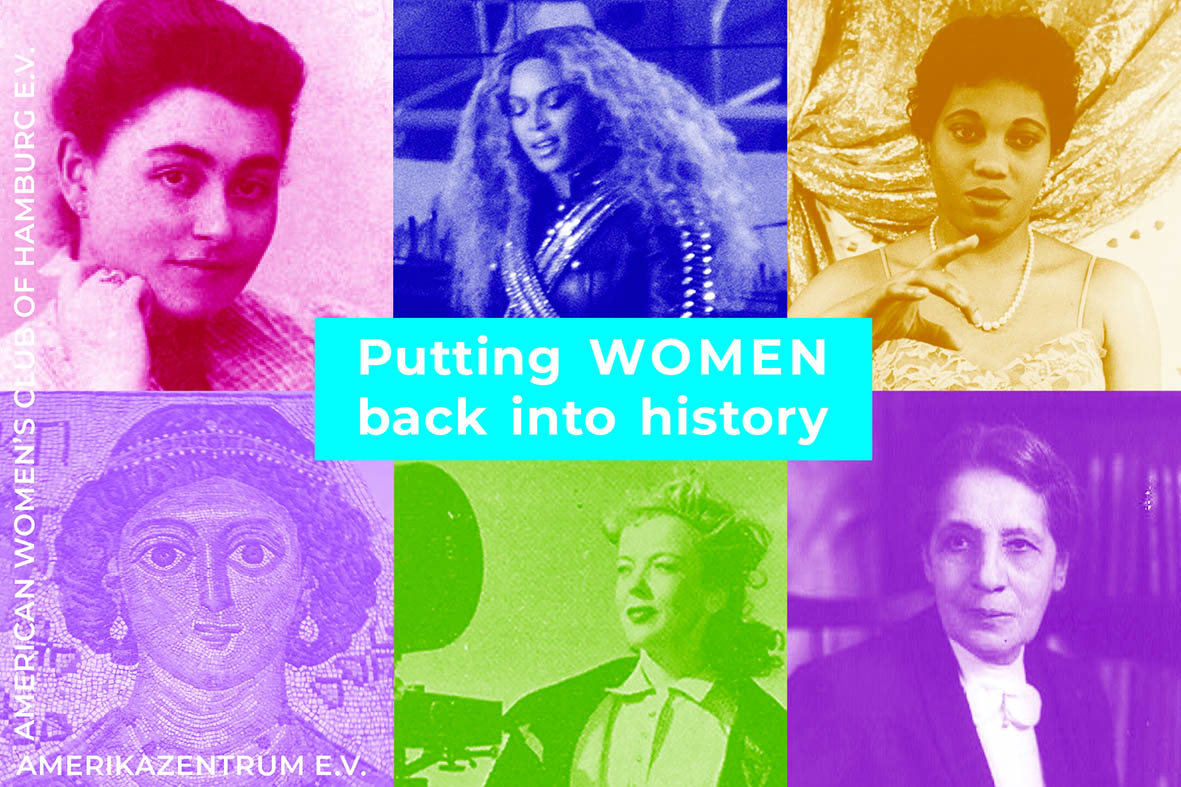 This event has reached capacity! Registration is NOW closed. AWCH or AZ members who would still like to attend can contact our WHM team at pres@awchamburg.org to be put on a waiting list!
In honor of Women's History Month
the American Women's Club of Hamburg e.V.
in collaboration with the Amerikazentrum Hamburg e.V.
and the U.S. Consulate General Hamburg
cordially invite you to
Putting Women Back Into History
Join us for a stimulating and inspiring evening featuring invited speaker Dr. Ailsa Holland, author of On This Day She. Dr. Holland will share the stories of women who have shaped our history but who have often been forgotten or deliberately ignored.
How can we put these women back into history and correct this imbalance? Only by identifying, celebrating, and increasing visibility of women's achievements can we help forge equality.
Prof. Merike Blofield, our fantastic moderator from our 2021 Women in Leadership event, will lead a discussion after Ailsa's talk, addressing the issues and policies that need changing to obtain gender equality.
U.S. Consul General Jason Chue will introduce Women's History Month, whose origins can be traced to a national celebration declared by the U.S. Congress in 1981. Not just a day, but an entire month to celebrate the achievements of women.
The event will be held at the beautiful Speigelsaal at the Museum für Kunst und Gewerbe (MK&G) and end with a small reception with refreshments and a chance to talk.
This event will take place in English, is free, and guests are welcome. We encourage you to invite young people to join us as change only happens when everyone is involved in the conversation! (The talk is suitable for young teenagers and up.)
Registration is NOW closed . We are sorry you cannot join us!
Please note: The main entrance to MK&G is under construction! One must enter on the opposite side of the building on Julius-Kobler-Weg!
Ailsa Holland is an award-winning poet, a writer, and a publisher. She studied literature and history at the universities of Oxford, York and Southampton and wrote her Ph.D. on British writers in Vienna in the 1930s. Ailsa's poetry pamphlet, Twenty-Four Miles Up (2017) was published with support from Arts Council England. Her debut collection—The Bodleian and the Bottle Ovens—will be published this year with Kingston University Press. Ailsa has been Artist-in-Residence for Barnaby Festival (2016), and Manchester Cathedral Poet (2019). In 2018 Ailsa co-launched the feminist history Twitter project @OnThisDayShe and gave a TEDx talk about the project in Macclesfield in 2019; she is co-author of On This Day She: Putting Women Back Into History, One Day at a Time (2021). Ailsa has lived and worked in Germany but now lives in Macclesfield, Cheshire with her bilingual family.
Merike Blofield is since January 2020 Director of the Institute of Latin American Studies at the German Institute for Global and Area Studies, and Professor of Political Science at the University of Hamburg. Prior to this she was Professor of Political Science and Director of Gender and Sexuality Studies at the University of Miami. Dr. Blofield's research focuses on the intersection of socio-economic, gender and family inequalities and the policy process in Latin America. Most recently she published several reports on government social protection measures in the wake of COVID-19.
Partly supported with funds from the German Federal Foreign Office
Photo Collage: Renée Erdős, writer (photo, Raab L, CC BY 4.0); Beyoncé, singer (photo Arnie Papp, CC BY 2.0); Leontyne Price, opera singer (photo, Carl Van Vechten, Library of Congress 2004663466); Leoparda, Roman physician (photo, mharrsch, flickr 1294049371); Ida Lupino, film director (photo, CC BY 4.0); Lise Meitner, physicist (photo, Library of Congress, 90707039).