Starts March 19
by Jenny M.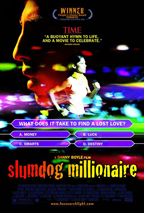 Here is a conundrum:  how to praise a movie while cautioning against viewing it! The reason for the caution is the scenes of torture and child mutilation, scenes which are so awful that you may feel compelled to leave the cinema. That said, and if you are not fainthearted, then you will see a fast-paced movie which will keep you on the edge of your seat.

In the slums of Bombay two little boys watch in terror as their mother is killed during a religious riot. They befriend another slum child, Latika, and this friendship, despite severe setbacks, will continue throughout their lives. Bombay becomes Mumbai as the children grow up and the slums are transformed into high-rise flats as India's technological boom starts to bring prosperity to its citizens. Jamal (Dev Patel) is the younger brother who finds himself on the television quiz show"Who Wants To Be a Millionaire?"  His childhood is seen in flashbacks as he answers the questions put to him by the unpleasant Prem Kumar (Anil Kapoor). Mr. Kumar believes that a "slumdog" can only answer his questions by cheating and hands Jamal over to the police, hoping that they can discover how he does it. Is Jamal telling the truth? Will he reach the finals and win twenty million rupees? Most importantly, will he finally find the love of his life? As in the T.V. programme, the suspense builds and builds in the movie.

Director Danny Boyle of Trainspotting fame has not made a Bollywood movie but one which has similar themes: where good triumphs over evil and the ending is sure to be happy. Jamal is honesty and goodness personified, his older brother Salim (Madhur Mittal) is a victim of his background and chooses a life of crime. Latika (Freida Pinto) is beautiful and constant. This colourful movie, with its happy, energetic music, has been lauded everywhere. It won the Audience Choice Award at the Chicago international Film Festival and was in the Best Film Category at the British Independent Film Awards in 2008, where Londoner Dev Patel was awarded the prize for Best Newcomer. It is now being tipped as a possible Oscar winner.