Starts April 23
by Marinell H.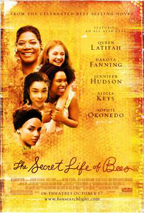 Being fourteen is never easy, especially for Lily Owens (Dakota Fanning), with her demons. Her mother is dead. She has an affinity for bees. Her father is remote. Lily lives with T. Ray (Paul Bettany) on a peach farm in rural South Carolina. The hired housekeeper, young Rosaleen (Jennifer Hudson), is both Lily's confidant and substitute mother. One day they walk to town so Rosaleen can register to vote; it is 1964 and the early days of the Civil Rights Movement. A provocation by local bigots results in Rosaleen being arrested, as well as hospitalized.

Indignant, Lily manages to free Rosaleen and they flee, leaving Lily's harsh father to flounder. Eventually they find themselves in a small town where, to Lily's amazement, a honey jar in a store window has a label that is identical to one of the few keepsakes she has from her mother. Yearning to know something of her mother's past, the proprietor says that the Boatwright sisters make the honey and live in a bright pink house nearby.

Weary Lily and Rosaleen arrive at the Boatwright's where the sisters, August (Queen Latifah), June (Alicia Keys) and May (Sophie Okonedo), reluctantly take them in to Lily's delight. She immediately feels an affinity to the Boatwrights and their home, and is sure there is a connection to her mother. Suddenly Lily has three capable, cultured women in her life. August teaches her beekeeping; Lily realizes she is a natural and bonds with Zach Taylor (Tristan Wilds) who assists in the business. But eventually the idyllic setting is shattered, forcing Lily to face her demons.

Under deft and honest direction from Gina Prince-Bythewood, who also wrote the screenplay based on Sue Monk Kidd's best selling novel, performances in this robust film are impressive. Rogier Stoffers beautiful cinematography and original music by Mark Isham set the mood and tone. Also comprising racial tension and family abuse, it is the message of the power love has to transform human lives that makes this heart-warming film an ode to a girl's coming of age.