Starts April 23
by Marinell H.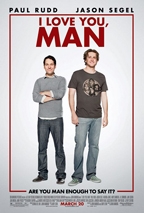 Standing on land overlooking Los Angeles, California with lights twinkling below, this sassy comedy opens with successful realtor Peter Klavin (Paul Rudd) slipping in a marriage proposal to Zooey (Rashida Jones), while outlining his dream of developing the tract. This hangs on his selling Lou Ferrigno's (himself/ Hulk) house. Minutes later driving home, Zooey speaker-phones best friends Denise (Jaime Pressly) and Hailey (Sarah Burns) and to his surprise Peter discovers Zooey has shared intimate details of their eight-month relationship.

Peter takes Zooey home to meet his mom (Jane Curtin), dad (J.K. Simmons) and brother Robbie (Andy Samberg); the dinner table banter unveils the film's adroit humorous pace. Fiancée Zooey has seven attendants lined up but Peter does not even have a best man friend. Peter's mom is his best friend; in fact, all Peter's friends are women. He does not play poker or chug beer and when he tries to jive-talk it falls embarrassingly flat.

Frantically Peter tries to establish bonds with men he knows. Robbie and his mom arrange man-dates, awkward for Peter especially when one ends with an unreciprocated kiss. At his Ferrigno's open-house Peter meets captivating, opinionated Sydney Fife (Jason Segel) and their chemistry triggers a swift bonding. Initially Zooey encourages the friendship, but after the three go to a Rush concert she tells Peter, "I feel like I'm losing you."
             
Very well cast, with first-rate production values from cinematographer Lawrence Sher, editor William Kerr and Theodore Shapiro's original music, this movie does not disappoint. Well deserved accolades to director / writer John Hamburg and his co-writer Larry Levin for this smartly written, savvy film. By the end, everyone redeems themselves in an unobtrusive way. An ode to friendship, the film has heart, wit and is good fun. Even as the credits roll, further clips provide entertainment.