1/2
Starts October 15
by Marinell H.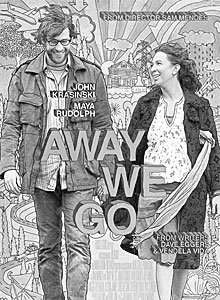 Director Sam Mendes skillfully explores relationships in this carousel of a comedy that is back on par with his first film, American Beauty. College drop-out Burt Farlander's (John Krasinski) long-time girlfriend Verona De Tessant (Maya Rudolph) is pregnant. They live in Denver to be near Burt's parents and over a dinner they learn that Gloria (Catherine O'Hara) and Jerry (Jeff Daniels) will leave for Europe a month before the baby is born to live there for two years. Struck speechless, Verona later says, "It takes selfishness to a new level."

But, Verona and Burt want to live near people they are close to for the birth of their first child. Verona's parents are dead. Family and friends are scattered throughout the U.S. They decide to go in search of a birthplace. Enthusiastically Verona says, "… we're completely untethered, if you think about it." Away to Phoenix we go, where Verona's ex-boss, scathing Lily (Allison Janney is spot-on) and resigned Lowell (Jim Gaffigan) reside with their two children. A first revelation.

Away we go to Tucson and Grace (Carmen Ejogo), who, after telling Verona how lucky she is, wants her big sister to tell her more about their parents, and talks about selling the family home. Next destination: Madison, Wisconsin, where Burt's long-time friend LN (Maggie Gyllenhaal) and her family live in their self-ordained world. Revelation number two; number three comes in Montreal, Canada, with Burt's school friends Tom (Chris Messina) and Munch (Melanie Lynskey), before flying south to Miami, Florida, and Burt's brother Courtney (Paul Schneider). Burt, overwhelmed, sleeps on the backyard trampoline and in the early morning with dew still thick on the grass Verona finds him and reminisces. She wants to go home. "Are you ready?" asks Burt. Along the journey to find home, their eyes are opened to what they do not want: away we go.

Understatement is imbued in this film. Pay attention to the exceptional nuances in the characters' facial expressions and body language that Mendes coaxes and captures. Not without help from Ellen Kuras' embracing cinematography and astute editing from Sarah Flack. Alexi Murdoch's music sets up the various destinations. The pieces are all in place, are you ready? Then away you go for a fun, memorable film.