Starts December 3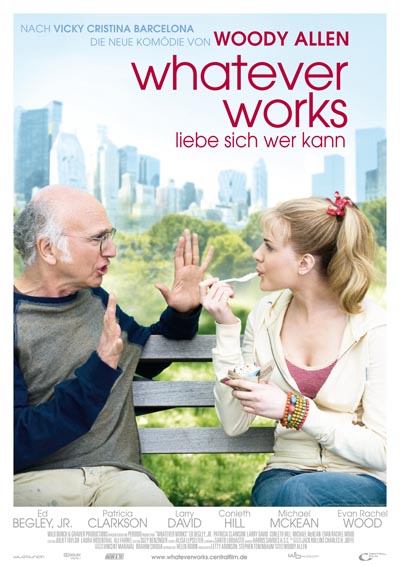 With his new movie Woody Allan is back in Manhattan after four years of filming in Europe. Larry David (Curb Your Enthusiasm) as the grumpy old man, Boris Yellnikoff, fits perfectly into the "Woody Allan role." The film starts with his terrific monologue addressed at the audience. Boris, the snuffed genius and misanthrope, is surrounded by ignorant "inch worms," meaning the entire human race.

An improbable story unfolds: The cantankerous Boris marries a homeless, pretty but naïve blonde from the South (Evan Rachel Wood). Her God-fearing mother (Patricia Clarkson) drops her prayers for sex games. The father and family man (Ed Begley, Jr.) discovers he is gay and takes a lover. When sweet Melody falls in love with a handsome young man, Boris attempts his second suicide (first try was after his first marriage). He fails again and lands on top of his third wife-to-be. The happy end is near when the extended family celebrates the New Year with fireworks over Manhattan.

Even if the story is in parts predictable the film is amusing, often silly but with hilarious moments and entertaining with typical – and topical – Woody Allan one-liners. 
Second Opinion  by Nancy T.




Those two words perfectly describe the theme of this hilarious Manhattan relationship film written and directed by Woody Allen (stating he himself is an exception to the thesis, "With me it's whatever doesn't work.")

The perpetual heavy-duty pessimist, gray-haired genius Boris (Larry David) is confronted at his downtown doorstep by Melody (Evan Rachel Wood) who begs him to let her come in out of the rain. She is a beautiful runaway from Mississippi, forty-plus years his junior. Boris considers her a nitwit (as he does most people) but she decides to stay (not many other options). Eventually they become used to each other and marry.

The relationships around them are all affected. Melody's mother (Patricia Clarkson) comes for an unannounced visit, and surviving the literal shock of her daughter's new situation, morphs from a genteel southern lady/housewife into the toast of the New York art scene. Boris's buddies, Melody's dad and everyone's love interests complicate, then correct the picture with the diverse choices they make to seek happiness.

Initially written for Zero Mostel in the role of Boris, Allen shelved the project when Mostel died; he recently returned to it with a well-chosen Larry David, producer of the Seinfeld TV series and now portraying a somewhat similar character on TV's Curb Your Enthusiasm, in the main role.  Boris is a great part, with many fun soliloquies, the only character to speak directly to the audience, emphasizing his genius (the only one acknowledging being watched) and his loneliness.