Starts December 24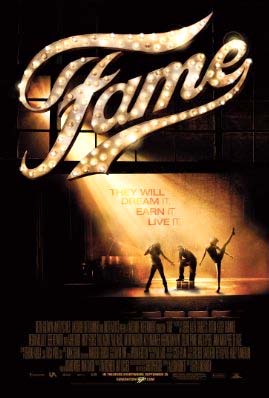 Based on the 1980s movie Fame, film director Kevin Tancharoen collaborates with screenwriter Allison Burnett and Christopher Gore and re-cycles the never-ending fascination with the students chosen to attend New York City's LaGuardia Arts specialized high school in their narrative, Fame. The talent produced from within this setting is truly extraordinary and worth recognition constituting yet another version on the same topic.

Founded in 1936 by New York City's Mayor Fiorello H. LaGuardia, the high school was the first to successfully make way for the highly gifted and talented children of New York City. It was here where students were encouraged to pursue their dreams in the arts and music while completing an academic degree equally demanding. Today, only students in the eighth or ninth grade residing in New York City are eligible to audition. Once accepted the student can remain in the school until graduation. Along with the college prep academic schedule, the students will try-out for the following studios: Art, Dance, Drama, Instrumental Music, Technical Theatre, and/or vocal Music. In 2009, over 9,000 students applied and auditioned representing all five districts of the city and 664 were chosen. Seventy-three years later the prestige, aura and fame of the institution along with its alumni, continues to produce the quality Mayor LaGuardia envisioned. If alive today, he would stand in awe of the fame from both the institution and its people.

Tacharoen's docudrama style narrative opens with the scurry of the first day of class at LaGuardia Arts and begins to unfold little vignettes from six newly accepted students to New York City's specialized high school for the Arts. The auditions they had to pass for the high school's entrance exams were tough but nothing compares to the intense journey each student describes about  growing up, learning as much as they can from their mentors (alias, teachers) and developing their talents to realize the school motto--"Dream It, Earn It, Live It."  

Tacharoen's visual transparency recounting the success and failure of this highly specialized form of education encourages further dialogue and critique in spite of the schools rich history. This intense art of learning performance skills is definitely abnormal. But, it is an invigorating guide that each teacher and student uses to make a difference in the world using their incredible talents and to recognize that Fame costs more than money to find their individual groove. Enjoyable performances by the cast of quality artists include: Charles S. Dutton, Kelsey Grammer, Kay Panabaker, Naturi Naughton, Kherington Payne, Megan Mullally, Walter Perez, Cody Longo, Debbie Allen, Bebe Neuwirth.