Starts September 30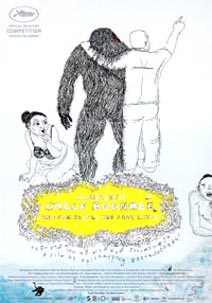 Back to nature seems to be the mode among art films. The Turkish film Bal, winner of the Golden Bear at the 2010 Berlinale, set the trend: long shots of the forest and streams and practically no sound track except for natural sounds from the environment; definitely no senseless plunk-plunk type of music.

Now we have Uncle Boonmee, which, three months later, won the Golden Palm at the 2010 Cannes film festival. Here the scene opens with a cud-chewing water buffalo in the rain forest of north-east Thailand. He chews endlessly until people lead him away. Uncle Boonmee lies on his cot while first a friend Jen (Jenjra Pongpas) and later his wife Huay (Natthakarn Aphaiwonk) in the form of a ghost, connects him to tubes to relieve his sick kidney. This is done carefully, ritually, endlessly. Then there is a hairy monster, supposedly a gorilla (my favourite character), who reminds me of Elmo in "Sesame Street." He pops up occasionally to blink his glowing red eyes and represents the ghost of Boonmee's long-absent son. The theme of reincarnation comes through in the search for his past lives and also in the form of ghosts.

The film reminds me of an art installation. In fact it could be divided into sections and each section could stand alone as an installation, repeated endlessly. For example, a woman and a girl sit on a hotel bed and watch television. A monk in orange robes comes in, uses the shower and redresses in normal clothing. Why? No clue.

With that impression, I'm not too far off the track, because Thai director Apichatpong Weerasethakul actually is known for his installations, e.g., one which showed in London, Paris, Munich, etc., called "Primitive."

Like Bal the scenes of nature were beautiful; again, there was no annoying, distracting music. However, I am hard put to remember any kind of definitive plot or text, although there is one memorable quote: "Heaven is overrated; there is nothing there," which could also be a case for reincarnation.

The Cannes film festival has been good to Weerasethakul. Besides winning first prize this year (2010), he won best film in 2002 in the Un Certain Regard section for Blissfully Yours and the Jury Prize in 2004 for Tropical Malady.

I recommend Uncle Boonmee to anyone interested in alternative film-making, i.e., those of you who are fed up with the likes of Leap Year or Hot Tub Machine also opening in September. This film is for people who don't necessarily need a plot to go forward, who don't fall asleep in the movies, and who even prefer to watch a movie alone.