1/2
Starts February 18
by Marinell H.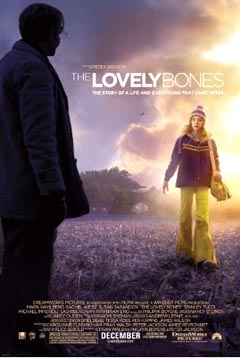 Based on Alice Sebold's novel of the same title, whose focus is on how a homicide affects the individuals involved, in Peter Jackson's film rendition of The Lovely Bones we spend a lot of time with Susie Salmon (Saoirse Ronan), a fourteen-year-old who tells us about her rape and murder, in, as denizen Holly (Nikki SooHoo) explains, "this isn't heaven, you're not there yet… this is a bit of both…"

Set in the 1970s, before Amber Alert, Jack (Mark Wahlberg) and Abigail's (Rachel Weisz) uneventful and nurturing home life shatters the day Susie does not arrive for dinner. The police are called; Lindsey (Rose McIver) remarks how her older sister is really going to be in trouble, when she gets home. Later, Detective Fenerman (Michael Imperioli) tells them that a cavity in a cornfield behind the school has been discovered, together with Susie's mom-knitted cap and a lot of blood. Grandma Lynn (Susan Sarandon is marvelous and one sexy grandma) moves in and tries her best to infuse some order in their now topsy-turvy life.

Innocence parallels evil; the juxtaposition of images is enhanced by cinematographer Andrew Lesnie's film tonality. Brian Eno's original score also captures the duality inherent in this film. Peter Jackson takes time to flesh out the characters. "I loved the way a photo captured a moment before it was gone… the memories you keep," young, waiting-for-her-first-kiss Susie tells us. Jackson is on par with Alfred Hitchcock in developing an atmosphere taut with fear-sweat-loathing-tension, as we follow all the events bound to Susie. When he unleashes his creatively imaginative genius, Jackson carries us along to a visual "in-between" wonder-world. However and unfortunately, he is excessive and in-between the wonderful, he includes imagery that is mundane and adds to the length, but not to the story.

In this suspenseful drama though, Stanley Tucci (sweet, supportive Paul Child in Julie & Julia) as George Harvey, emits a degree of evil not easy to forget. This haunting film, and George, remind us, "…you're going to have to be more observant", and about the power of love.