Starts February 4
by Osanna V.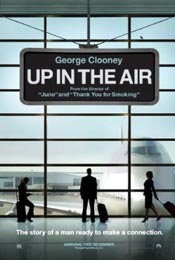 Starring George Clooney (Good Night, And Good Luck, and Syriana), Vera Farmiga (The Boy In The Striped Pyjamas, Nothing But The Truth) and Anna Kendrick (Twilight: New Moon), Up in the Air was directed by Jason Reitman (Juno), with a screenplay by Sheldon Turner inspired by the book of the same title by Walter Kirn.

Ryan Bingham (Clooney) is employed to travel the country informing people that they are being laid off by their companies. It's tough and requires a good measure of diplomacy and a talent to inspire people to the possibilities of new alternatives. There is one aspect of his job that he does love, however: the traveling. He's so at home in business class at 30,000 feet, in airport VIP lounges and hotel bedrooms, and making the delightful acquaintance of the likes of Alex (Farmiga), that he feels no need to have a cosy pad to return "home" to, anywhere; and his big goal is to be the seventh person in the world to fly 10,000,000 miles.

When Harvard graduate Natalie Keener (Kendrick) joins the company and sells the boss, Craig Gregory (Jason Bateman), the idea that firing employees can be done just as effectively (and much cheaper) via virtual computer hook-ups, Bingham is appalled. He's not only convinced it a bad idea, it also threatens the lifestyle he loves so much. Gregory decides to let Ryan do one last tour, taking the young Natalie with him.

Thus begins a very different type of journey, where Ryan and Natalie try to outdo the other whenever possible, while also becoming friends and making personal discoveries that will impact their lives forever.

As bleakly and realistically as the subject of lay-offs is presented in the movie (non-actors facing this dilemma were also among the cast), Up in the Air has a lot of quirky humor, while asking some fundamental questions. The three main characters (Ryan, Alex and Natalie) work well and convincingly together.