Starts March 18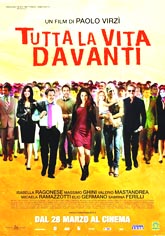 Is there anything good about a call center? The employees earn tiny salaries by harassing, even swindling, perfect strangers on the phone. They spend long hours in a small cubical with fear of low performance hovering over them as they clasp their earphones and speak hoarsely into the phone. They are selling something; feel sorry for them and buy it, please

Two films, both call center parodies with deeper meaning, came out in 2008. One was the German film Selbstgespräche (Come in and Burn Out – although the German title which translates to "talking to yourself" is more precise) by André Erkau. (See www.kinocritics.com for a review).

The other, a bit late, but here, nevertheless, is Tutta La Vita Davanti (which could be "your whole life is just ahead" or in German Das Ganze Leben Liegt vor dir) by Paolo Virzi. The two films are almost identical with small cultural differences.

Tutta la Vita Davanti is a fast-moving black comedy which begins with song and dance. Marta (Isabella Ragonese) graduates summa cum laude with a degree in philosophy. Where do philosophy majors find an equivalent job? Nowhere. Where do they go for the pay check that keeps them off the street? To the Multiple Call Center. Naive Marta moves in with blond Sonia (Micaela Ramazzotti): single mother, call center colleague, and night club dancer. Their boss Daniela (Sabrina Ferilli) is pregnant after sleeping her way to the top with the owner, Claudio.  Claudio is married but separated. Then there is the union leader Giorgio who investigates the inhumane working conditions, as well as Lucio 2, who suffers a nervous breakdown. He works next door in an all-male group which actually delivers the worthless products the girls sell. Compared to these people Marta is a bastion of reason and maturity. She even designs a means of outselling all others and becomes the "Employee of the Week."  In the end her careful observations lead her to a boost up the career ladder in philosophy no less, but, more important, to a better appreciation and understanding of people.

The film seems light-hearted and superficial as the girls discuss the Big Brother TV series and happily accept a prize for high sales: a key chain. But underneath, the film is a serious social criticism about the demeaning choices people make to survive and still keep their dignity. All actors are excellent, but the one I would most like to point out is Giulia Salerno who plays Sonia's daughter, a small girl with large glasses who would like to be a philosopher some day. More power to her.