Starts March 25
by Marinell H.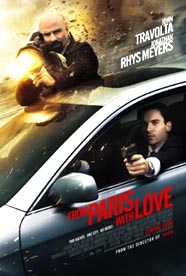 Stamped with the Luc Besson (story) formulaic signature i.e. Taken, the Transporter and Taxi films, The Fifth Element, and combined with Adi Hasak's screenplay and Director Pierre Morel, From Paris with Love does not disappoint. It is action-packed, has bodies dropping like flies and gut-wrenching car chases, comedic banter between the protagonists, plus detours from Besson's norm in the latter half of the film.

A valued personal aid to U.S. Ambassador Bennington (Richard Durden) in France, young James Reece's (Jonathan Rhys Meyers) heart really lies with the covert low-level work he does for the CIA, and with Caroline (Kasia Smutniak), his beautiful French girlfriend. On the eve of an important U.S.-African Aid Summit, astonishingly Reece is given a senior-level field assignment: spring his "partner" from Charles de Gaulle Airport Customs and accompany him during his mission. Reece is elated that he is to accompany one of CIA's top agents, until he meets Charlie Wax (John Travolta). Bald, brawly, brawny, and brazen, with enough bravado for them both, Wax leads them on a nightmarish trip through the Parisian underworld. Reece is almost fed up with Wax, but conditions alter and become deadly personal for Reece. Charlie Wax is perhaps his only hope.

The steady repartee between Travolta (whose performance is comparable to The Taking of Pelham 1 2 3 but this time he is the good guy) and Meyers is tangible and amusing, whether during fights or while in pursuit of the baddies. In the latter half, the film deviates from the Besson rule, which adds to the suspense and makes for a fresh approach. Michel Abramowicz's camera careens at bumper level during car chases, yet closes in to capture the insinuations, and David Buckley's original music works well. A good action flick, with divine shots of Paris and a soundtrack augmented with some smooth easy-listening music, From Paris with Love is easy to take at its face value.