Starts April 10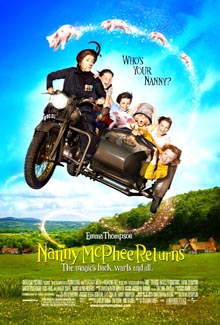 Universal Pictures presents Nanny McPhee Returns starring Academy Award Winning actress Emma Thompson as none other than Nanny McPhee. The tenacious work ethic of the miracle worker Nanny McPhee and her support to help struggling families has transformed generations of imagined misbehaved children for over 100 years. Thompson's screenplays (Nanny McPhee and Nanny McPhee Returns) are adaptations from the adventures of Nurse Matilda written by the Malaya-born author Christianna Brand and illustrated by her cousin, Edward Ardizzone. The three-book series of Nurse Matilda (Nurse Matilda, Nurse Matilda goes to Town and Nurse Matilda goes to Hospital) were first written down and illustrated in 1960. They are remnants of the actual bedtime stories Christianna and Edward heard as children told by their grandparents, who had heard them from their grandparents going back to 100 years of their traditional family storytelling. Over time, each generation would add to the original version of the magical nanny who mysteriously appears on the doorstep of households with ill-behaved children with the sole purpose to assist with the task of disciplining the brood, creating a personal family legacy on how to deal with the unruly kinfolk.

Thompson's excellence in her adaptation of Nurse Matilda's quest also keeps true to Brand's family storytelling of Nurse Matilda (in the films now Nanny McPhee) to be a timeless character every generation could imagine a magical force of integration into their own lives.

Those who meet Nanny McPhee for the first time are rather frightened by her appearance and find it difficult to concentrate on her last name, so in order to move the introductions along, she schools those who question by saying, "I'm Nanny McPhee, that's little c, big P". After the introductions, Nanny McPhee will lay her ground rules only to those who need to hear:

"I am going to explain to you the way I work. When you need me, but do not want me…then I must stay. When you want me, but no longer need me…then I have to go." –Nanny McPhee

In Nanny's latest adventure Nanny McPhee Returns, she arrives at the home of Mrs. Isabel Green (Academy Award nominee Maggie Gyllenhaal) who is a young mother struggling to care for her unruly three children, Norman (Asa Butterfield), Megsie (Lil Woods) and Vincent (Oscar Steer) and the family farm in the absence of her husband, Rory (Ewan McGregor) who is away at war. It all hits the fan when Isabel's snobbish niece, Celia (Rosie Taylor-Ritson) and nephew, Cyril (Eros Vlahos) from London come for an unexpected visit. A string of calamities bring Isabel to her breaking point trying to keep peace in the family with the war between her children and the cousins-- The battle known as The Covered-in-Poo People vs. The Perfumed Townies. Nanny McPhee gets wind of the horrific crisis and unexpectedly appears on the doorstep of the Green farm knowing her help and beauty will be welcomed…eventually.