1/2
Starts April 22
by Shelly S.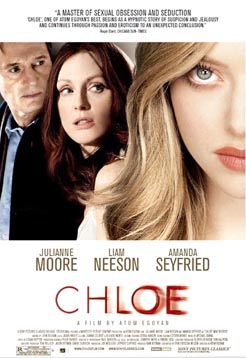 Watching films by director Atom Egoyan is like being a voyeur who observes the most private thoughts of the internal workings of a dysfunctional family. Egoyan has a natural ability to  create a complicated situation where the characters try to be in control but it always leads to a unpredictable outcome.
This family consisting of David (Liam Neelson), a handsome Music professor, his wife Catherine (Julianne Moore), a gynecologist, and their son Michael  (Max Thieriot), who is a teenager who wants to grow up, is no different. David misses his flight from New York; therefore missing a surprise party that took his wife Catherine months to organize. He unknowingly has sent a message of mistrust into his relationship by not telling his wife the whole truth. Catherine is perceived as a highly controlling figure in work as well as at home. An accidental meeting with a beautiful call girl, Chloe (Amanda Seyfried), gives her the idea to use her skills to find out if her husband is cheating on her.
Egyan dives into the multiple aspects of a person going a through a midlife crises. He examines Catherine's emotional feelings towards herself, her husband, as well as her sex life. She realizes almost too late what she has done to her family but tries to piece it back together.