Starts April 29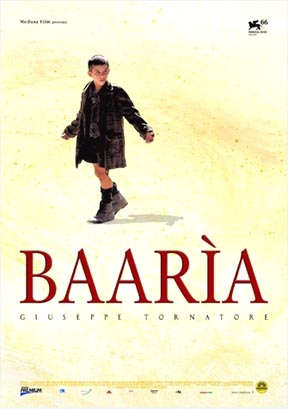 Italian director and scriptwriter  Giuseppe Tornatore has drawn on his own life and family experiences while growing up in Sicily in this generational film which begins in 1910 and continues into the 1960s. Little Peppino is the poor son of a shepherd in Baarìa in Palermo Province in Sicily. He struggles in his one-room school and helps his family herd the sheep. He drives his cow through the village square, selling fresh milk straight from the udder into the bucket. He observes everyone around him and observes injustice and suffering as well as beauty. The film rolls along until he is a grown young man (played by Francesco Scianna) with political ambitions; he meets with like-minded men who start a communist cell in Baaría. He falls in love with Mannina, a seamstress. Her family can find nothing positive about this poor communist and prevents a wedding. He and Mannina seek a way out. They meet alone in her house where she is deflowered and they must marry. Peppino is often absent due to his political activities; Mannina carries on, bears his five children and share his increasing acceptance in society, along with a higher standard of living.

This is an overlong (150 minutes) film which still never seems to be enough. Although the houses, cars, and fashions change, the town square and the three craggy rocks nearby always stay the same. This is an epic film about a small boy growing into a past-middle-aged man with a grown son of his own. Many scenes show thousands of extras (35,000 in all – Metropolis had 36,000) as they stream down the streets and over the fields. There are many small, short episodes which could each stand alone: the teacher in front of the class, men dancing with men and women with women, rows of women sewing, a family sitting around a dying man reminding him whom to greet when he finally gets to the other side, a spaghetti-eating contest.  The story is not as important as the general atmosphere which is wonderful, as one would expect from the director of Cinema Paradiso or The Legend of the Pianist on the Ocean. (I fully expected Anna Magnani and Anthony Quinn to pop up – okay Quinn is not Italian but he could play one very well.)

The music hovers in at all the right times and seems faintly familiar, which is to be expected since the composer is 82-year-old Ennio Morricone who found fame working with Sergio Leone in 1964 with A Fistful of Dollars and continued with international directors to compose for The Good Bad and the Ugly, My Name is Nobody, Tie Me Up Tie Me Down, Cinema Paradiso, The Untouchables, Once Upon a Time in America, Days of Heaven, Bugsy, The Mission, etc.  He has received many life-time achievement awards. The huge cast of Italian actors, all new to me, were excellent. Francesco Scianna as the grown-up Peppino is such a good-looking Italian man, that I wouldn't be surprised if he became the next Alain Delon. (I know, I know, Delon is French, but you get what I mean.) Sometimes I didn't understand the references to local customs, e.g., the old woman who is inevitably invited into homes for meals who says, "She is a good bride." Is she a fortune teller? What about the man who always stands on the corner of the square and says, "I buy dollars"? Baarìa opened the 2009 Vienna film festival, the first Italian film to do so in 18 years. It was nominated for a Golden Globe as best foreign-language film.