Starts April 29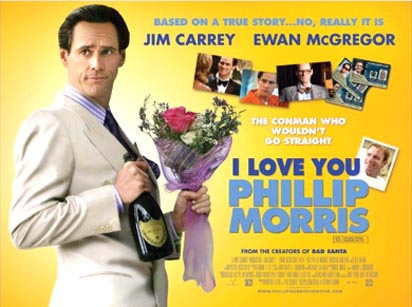 As a young boy Steven Russell learns that he was adopted straight out of the hospital, abandoned by his mother, who even refuses to acknowledge him later upon adulthood. As a grown man, he is a policeman married to a conservative Christian woman. He fakes being the perfect husband and father to his young daughter. He is too good to be true – and is. Late nights at work are actually opportunities to meet gay partners. A serious traffic accident opens his eyes to his "true" feelings and he becomes flamingly gay, but retains a friendly relationship with wife and daughter. "Being gay is really expensive," but money is not a problem for Steven. Attired in suit and tie, he assumes the role of a hot-shot financial manager, directs the company's money to his own account and grows enormously rich, much to the delight of his boy friend, Jimmy.  It all collapses as it must and he demonstrates his ability to adjust to all walks of life including prison. Here he meets the great love of his life, Phillip Morris. Upon his release he once again metamorphoses into the person most needed: in this case a lawyer who gains freedom for Phillip.

Steven's insecurity in the real world supposedly originates from the rejection by his birth mother. Chameleon-like he changes colors so often that even he wonders who he really is; Phillip wants the real Steven to step forward. As the situation becomes more complicated and after many dead ends, an older and wearier Steven wonders "How can a person who doesn't exist continue to exist? I enjoyed his various personas and once he even fooled me with his act. The gay/prison/impostor idea is not new to cinema. This is a kind of a potpourri of The Kiss of the Spider Woman, The Shawshank Redemption, Catch Me if You Can and Brüno. Steven gains your sympathy. I bet you, too, would believe his stories and open your pocketbooks.

I Love You Phillip Morris is based on the book of the same name by Steve McVicker. It is supposed to be a true story about a real man who served, and still is serving, time in a Texas prison. Names and some facts were changed and it would be interesting to know what is actually true and what stems from the fantasy of McVicker and the film directors/screenplay writers Glenn Ficarra and John Requa. True or not, it is still a good story. The best part is the interaction between Jim Carrey as Steven and Ewan McGregor as Phillip, the former with dyed black hair, the later blond and very cute – a real "boy" in the gay sense. I agree with my colleague, Sam G., that we should see the film again, this time in English instead of German, just to appreciate McGregor's accent in this role. McGregor certainly can't complain about too much free time: he also just appeared in Men Who Stare at Goats and was truly wonderful in Roman Polanski's The Ghostwriter which showed at the 2010 Berlinale.