Starts April 29
by Karen P.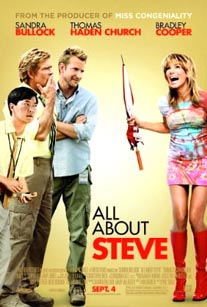 First time filmmaker Phil Trail coins Kim Barkers' script, All About Steve, that describes why some female/male relationships simply aren't meant to be in spite of avid pursuit. Trail captures Barker's inane tale using a tenacious naïve heroine to expound on the importance of being true to oneself. The performance from actress Sandra Bullock is the perfection needed to tackle the importance of the film's goofy and twisted narrative.

Mary Horowitz (Bullock), is the local newspaper's genius crossword puzzle designer. Outside of holding down a great job that serves her passion, she is single, beautiful, extremely naïve and attracts disaster. Mary's attempt to find her Jewish Mr. Right is forever sabotaged by her natural eccentricity that most men abhor. Her parents arrange a blind date for her with the son of friends from the Jewish Community. Mary is not amused by the attempt nor is she interested in being set up for another foiled event, but agrees to oblige them. She dreads the encounter until Steve (Bradley Cooper) arrives to pick her up. Mary is stunned that her date is amazingly attractive, Jewish and has won her parents' approval. She has found her man!
Steve is frightfully overwhelmed by Mary's odd but passionate enthusiasm toward him and is grateful to be called into work just ten minutes into their date. Steve brushes Mary off and she actually gets it until Steve's colleagues, Hartman (Thomas Haden Church) and Angus (Ken Jeong) maliciously encourage Mary to engage in a hot pursuit for his affection. Mary has nothing to loose and delights to imagine that their relationship could sparkle, if "Steve was someone as normal as her." Mary's journey to find that special someone is what makes All About Steve endearing. To enter Mary's world and view life through her eyes is what puts the sparkle into normal.