Starts April 29
by Shelly S.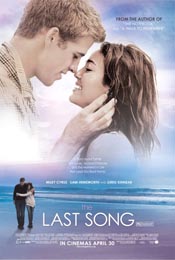 Here's the film for those who are either a Miley Cyrus or a Nicholas Sparks fan! This film definitely has the trademark of Spark's work since not only did he write the novel but the screen play as well.
Set in the south, this film has its southern charms which include a church burning, mud fights, beach volleyball and vicious southern bells. Miley Cyrus plays Ronnie, a rebellious teenager from the north who is forced to spend the summer with her estranged father (Greg Kinnear). By chance she meets the rich boy in town who tries to impress this slightly punk rock girl with little success. The story is held together through the common love of music that the father and the daughter share which enables them to slowly break down their differences.
This is a tear-jerking-feel-good movie that will definitely appeal to every teenage girl inside of us. The music is terrific and this movie that makes you feels like you're right at home in good old America. Director: Julie Anne Robinson.