Starts May 20
by Jenny M.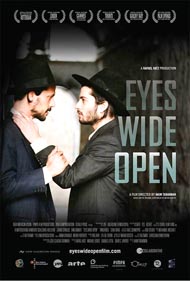 Orthodox Jews living in Jerusalem today follow the beliefs and traditions established by their ancestors thousands of years ago. In his debut-movie, director Haim Tabakman bravely questions whether those beliefs might be softened; if indeed all of them are still relevant and shows what may happen if they are challenged.

Aaron (Zohar Strauss) has just taken over his father's butcher's shop in an ultra-orthodox part of the city. He has a dutiful wife and four young children. He is also a respected member of his synagogue and the time spent there is an important part of his life. A good-looking young student stops by the shop for change for the telephone. When he learns that the student is homeless and almost friendless in the city, Aaron lets him sleep in the room above the shop and help him in his work.

Unfortunately for Aaron, his initial kindness towards the young man depends into a sexual attraction. The attraction seems to be mutual and the student Ezri (Ran Danker) tests Aaron by suggesting that they close the shop and go swimming in a spring on the stony outskirts of the city. The two soon begin an affair and Aaron is wrecked with guilt, torn between his passion for Ezri and his knowledge that he is breaking his lifelong religious beliefs.

Aaron's wife shows hospitality to Ezra, who shares family meals at their modest home, but she senses a change in her husband's attitude towards her. His friends in the synagogue become suspicious and his rabbi makes enquiries about Ezri and warns Aaron that the boy is "bad news" and he must go. Despite being deeply religious and in full knowledge of the "sin" he is committing, Aaron cannot control his passion for the younger man, who in turn, needs the love which Aaron gives him. The affair can only end in tragedy and it does; violence overrules compassion.