1/2
Starts May 27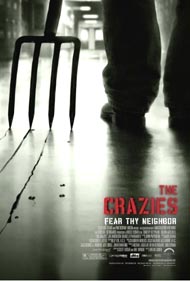 What better site for a horror movie than a small U.S. Midwestern town? Just think about it: isolated fields, empty highways, truck stop, farm house with creaky wooden stairways, menacing farm machinery, trailer trucks, hunting rifles, pitch forks, old barns, yellow school bus, overalls and high rubber boots. It's all there in this scary movie by Breck Eisner.

David Dutten (Timothy Olyphant) is the sheriff of Ogden Marsh, Iowa. He and his deputy Russel (Joe Anderson) must cope with local citizens who suddenly become insane, shoot people and set fires. By the time they know that a cargo of TRIXIE (a secret U.S. government formula lost in transit) is slowly poisoning the water supply, it is too late; the townspeople are infected and sentenced to uncontrollable weird behaviour and blotchy skin. Within 48 hours the town is destroyed and these two, along with David's wife Judy and their friend Becca are on the run from both their former neighbors, as well as the U.S. military which suddenly accepts responsiblity. Panic-stricken, they go from one catastrophe to the next, in their attempt to reach safety.

This is a remake of a 1973 film with the same name by George A. Romero. My colleagues assured me that the original was simply a bad film, even if Romero was quite successful with Night of the Living Dead. It's rare that a remake is better than the original, but this one is so well-balanced with just the right amount of tension which builds up to a climax and then gives release so that you can catch your breath before the next catastrophe occurs. This perfect timing and lack of repetition keeps you on your toes until the film ends in a classic scene with two people, framed from behind by a giant fireball, gazing across an empty field at Cedar Rapids, Iowa, and safety. The excellent music by Mark Isham underscores all of the above.

I just have to get personal here; all the outside shots were made in Lenox, Iowa, just an hour from my Missouri hometown (where our high school sports team was also called the Tigers – just like in Ogden Marsh). It was enough to make me homesick and I never thought I would miss that area of the world. Image thinking that Cedar Rapids, Iowa, would be the answer to anyone's prayers! Naturally, you have to like scary movies to like this one, but it is very good for the genre and you'll never ride through a car wash again.