Starts May 20
By Birgit S.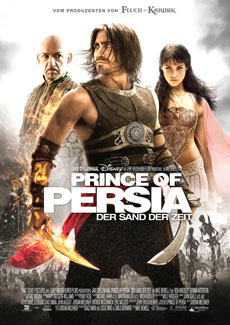 This epic action-thriller by director Mike Newell (Harry Potter and the Goblet of Fire, 2005) is based on Jordan Mechner's innovative and highly successful video game with additional inspiration from the many traditional stories of ancient Persia.
During the 6th century the wise King Sharaman (Ronald Pickup) rules. He takes the orphan Dastan into his household and brings him up together with his two sons Tus (Richard Coyle) and Garsiv (Toby Kebbell). Many years later the boy has become a muscular and courageous prince of Persia (Jake Gyllenhaal). Under the guidance of their uncle Nizam (Sir Ben Kingsley) the brothers attack the peaceful and holy city of Alamut where he can show off his heroic acrobatic skill.

Princess Tamina of Alamut (Gemma Arterton) wants to save the dagger with the "sand of time", Alamut's most sacred possession but unwittingly Dastan got hold of it without knowledge of its magic power. The mystical dagger can reverse time and its possessor could rule the world. When Dastan is blamed for the murder of the king, Tamina helps him to flee the palace. This is the beginning of a love-hate relationship. She desperately needs the dagger to return it to the sacred cave in order to save the world from the rage of the gods. Nizam is discovered as the villain and murderer of the king. He has joined forces with evil daemons now out to destroy Dastan and Tamina. They have to be clever and inventive to overcome spectacular and dangerous situations before reaching their goal.
 
There is no lack of action with frequent bangs of explosions, raging fires, falling rocks and crumbling buildings. A muscular and long-haired Jake Gyllenhaal fights heroically but also shows his mischievous charm. The video game has been transferred well onto the big screen. This glossy, mystical romp with some stunning location shots, will appeal to the generation of teenagers (and probably dads as well).