***
Starts May 20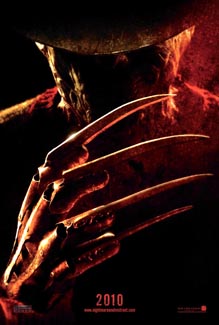 Nancy, Kris, Quentin, Jesse and Dean are teeanged friends who reside on Elm Street and all have the same bad dream. At first they ignore the significance of sharing a nightmare, until first Dean, then Kris, and finally Jesse are murdered in their sleep, slashed to death in a pool of blood by the bogey man of their dreams. Nancy is determined to solve the mystery and incorporates Quentin's help, although both of them can barely function, since for days fear has kept them from nodding off. Nancy's mother and Quentin's father reluctantly explain that all of the young people involved attended kindergarten together. At that time the parents took the law into their own hands and murdered the gardener, Freddie Kruger (Jackie Earle Haley), who was suspected of child molestation. The reincarnated Freddie wears a red and green striped sweater and a felt hat. His face is horribly scared by fire and he wears gardening gloves with knives at the end of each finger. Nancy and Quentin are keen to catch Freddie once and for all, a tall order considering that they have to transport him out of a dream.

As it stands, this horror story is scary enough. I jumped out of my seat twice and felt bone tired along with the actors who were afraid to close their eyes for fear of renewed horror. The photography is good; the plot goes forward logically. There is a slight problem with repetition; after all, Freddie can only brandish his knives so many times before we think, "Freddie, scraping sparks on the basement wall is getting annoying."   

This version of A Nightmare on Elm Street by Samuel Bayer is a remake of Wes Craven's unforgettable original which appeared in 1984 and which went on to spawn seven (!) sequels. It's impossible to see the new version without comparing it to the original. The new version closely follows the original storyline; however, the teenagers are more sophisticated, older, and freer. Cell phones and computers are evident; these kids drive themselves in their own cars. By the same token, today's young internet-savvy viewers have a shorter concentration span, are not easily fooled by a bit of makeup and are much more demanding. They will decide whether this, too, will have sequels, as the open ending implies. Rooney Mara, Katie Cassidy, Thomas Dekker, Kyle Gallner, and Kellan Lutz are all fine new faces on screen, as was a 21-year-old Johnny Depp in the original. Perhaps we will remember this film as the springboard for a new star.  

Filmed mostly in Illinois near Chicago: Arlington Heights (John Hersey High School), Elk Grove Village (Elk Grove High School), Barrington (Jewel Park), Elgin (Bluff City Cemetery), Chicago (Powell's Book Store, Michael Reece Hospital, Hawthorne Pharmacy, Orland Park Police Station) as well as Gary, Indiana (City Methodist Church).