½
Starts May 27
By Osanna V.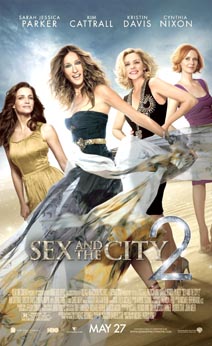 Sarah Jessica Parker, Kim Cattrall, Kristin Davis and Cynthia Nixon hit the big screen again in another fluffy extravaganza. The movie was written and directed by Michael Patrick King, who produced the TV series and first film, based on characters created by Candace Bushnell.

Samantha (Cattrall) – the only single left in the infamous quartet – is offered a trip to Abu Dhabi to enjoy the luxuries of a brand new hotel she has been asked to consider promoting. She accepts on the condition that she can take her three girlfriends along. Thus the four set off on a more-than-first- class trip, where their every whim and desire are attended to by a fleet of butlers and chauffeurs.

Carrie (Parker), Charlotte (Davis) and Miranda (Nixon) all leave husbands behind in New York. Curiously enough, out of sight doesn't mean out of mind: while enjoying the sight and sounds of the Middle East, their journey also becomes a chance to review and renew their relationships with the men in their lives. Samantha, on the other hand, is still footloose and fancy free, and ready to take advantage of every opportunity for a sexual fling that comes her way.

Exotic settings and extravagant clothes are not, in my opinion, enough to save this film. The timing of the dialogue is stilted, as though the actresses no longer identify with the roles they're playing. The discussions and insight into issues of relationships does give it a little more depth than it might otherwise have had, and I did smile when Charlotte and Miranda drink a toast to mothers who bring up children without the benefit of a full-time nanny; Samantha, however, is crude and shows absolutely no sensitivity or understanding for the Middle Eastern culture (totally non-credible if she's a successful promoter who's being commissioned to take on a job there), which leads to the four girlfriends being dropped by their host like hot potatoes.