Starts June 24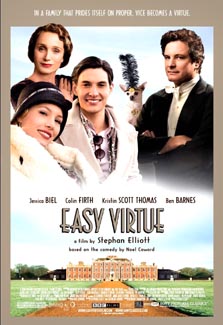 Australian director, Stephen Elliott was thrilled to have secured the rights to bring to the film audience Noel Coward's 1924 play Easy Virtue. Elliott keeps the same title for his screenplay written with Sheridan Jobbins; and, together with an award-winning production team including skilled performers, their wonderfully amusing rendition of Coward's Easy Virtue is a hit. Coward's message stemmed from "a disheartened knowledge that many people were forever shocked by honesty and few were by deceit." According to film historians, many filmmakers deem it forever worthy to recreate Coward's works including Alfred Hitchcock who also produced a silent film rendition of his play in 1928.

The infatuation of the young British aristocrat John Whittaker (Ben Barnes), with the beautiful American female race car driver, Larita (Jessica Biel), is reckless but sincere. They are mad about each other and marry impulsively while John is travelling in America. The Whittaker family, not amused at the news their son has "crossed over" the British lines for true love, puts on a front to receive their new daughter-in-law. Mrs. Whittaker (Kristin Scott Thomas) is threatened from day one by Larita's presence. She brings the freshness to life in which Mrs. Whittaker has allowed to escape her world. Mr. Whittaker (Colin Firth) is delighted by Larita's company and her breath-taking beauty. He is proud that his son has married a woman with brazen class. His wife has met her match in Larita and considers it thrilling to watch the kindling of the foreign relationships have a go. Yet, his fatherly indifferences do not prepare him for the ramification of Larita's transparent bright side to life, her free spirit and uncomplicated lifestyle that collides with the Whittaker's love for sophisticated snobbery and their desire for deceit.



In 1924 playwright Noel Coward wrote his 16th play, the social comedy Easy Virtue, when he was just 25 years old. In 1928 Alfred Hitchcock filmed the story as a silent movie. Now, exactly 80 years later (originally appeared in 2008), director Stephan Elliott brings forth his interpretation staring Jessica Biel, Kirsten Scott Thomas, Colin Firth and Ben Barnes.

It's around 1920 and the Whittaker family, comprised of Mrs. Whittaker, husband John, and daughters Hilda and Marion, are ensconced in their British country mansion surrounded by fields and servants. Mrs. Whitaker carries the financial responsibility and tries to make the property profitable. John Wittaker fought in the war, an experience which seems to have broadened his horizon as he is comparatively open-minded. The daughters wait for a good marriage. Son John is sowing wild oats in Monte Carlo, but still his news strikes them dumb: he is returning home with a new American wife, "that floozy from Detroit," race-car driver Larita. They arrive in her roadster and the rest of the film lives from quips about British prejudices and stiff upper lips, as well as their love of pets, tennis and fox hunting. Larita tries to adjust, but gradually gives up when she realizes that John is a wimp with no plans to move to the city. She fights back, e.g., when asked, "Do you have to be so loud?" with "Of course, I'm American!"

I don't quite know why we need this film at this time. Perhaps there is a reason. Elliott doesn't follow Coward's play exactly, e.g., he has rearranged characters and changed the ending. I'm not sure if contemporary audiences will be shocked at anyone reading Sodom and Gomorrah, or smoking or having been divorced, or in court, or dancing the can-can without wearing panties. Still, it's a lively story and the Whittakers get their just due, along with their neighbors, the Hursts. I was positively delighted when that horrid, little, white dog bit the dust, even if he didn't stay buried for long. Possibly the best part is the sound track with music from the '20s, as well as a lively rendition of a song about "When the going gets tough, the tough get going." The whole film (scenery, costumes, hairdos, lifestyles) reminds me of The Great Gatsby which came out in 1925 and also portrays the 1920s.