Starts August 26
 
by Shelly S.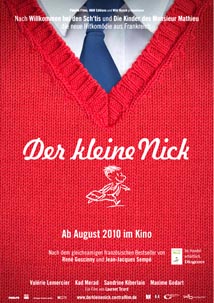 Here is a film celebrating the 50-year anniversary of the French children's book series by Rene Goscinny and Jean-Jacques Sempe. For me this was a cultural experience since it seemed that everyone in my age group or younger has read these books here in Germany. It is similar to our reading C.S. Lewis or Dr. Seuss books in America.

The film dives immediately into the 1950's era in style and mentality where women are housewives and the perfect mother without the thought of becoming emancipated and the men have the strict role of climbing the ladder of success and striving to support the family by bettering their social status. It clearly selects a time period where every one knows his place and stepping over the borders only leads to disaster. The film plays with these stereo-typical characters and shows through humor the boundaries which become overextended like a balloon ready to pop.

The film is taken from the point of view of Nick who fears that his perfect world is about to be destroyed by the arrival of a baby. The misunderstandings that develop between the parents and the children soon become dramatic, even gigantic, unsolvable problems which lead this troupe of friends down the path of mayhem. Don't look for it in English or you will end up with the horror film called the Little Nicky which is about ten years old. This film is recommended for age six and up.
Director: Laurent Tirard: Original version: French