½
Starts August 12
by Marinell H.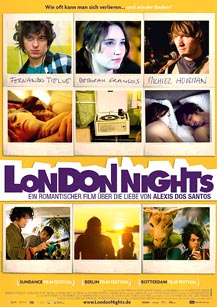 Yes, this is a film about 20-something-year-olds search for their identity with the requisite drink, sex and bands. No, it is not typical. This funky flick is different than most in its genre (Nick & Nora's Infinite Playlist) because writer / director Alexis Dos Santos instills compassion, fragilities, friendship, and acceptance in to his characters and storyline.

To "squat" in London is a lifestyle. Soon after Axl (Fernando Tielve) arrives from Spain in search of his father, he wakes up in one and new-friend Mike (Iddo Goldberg) confesses the number of people living there changes all the time. A floor below Belgian Vera (Déborah François) tries to get over ex-boyfriend Lucas; she always feels like she is going the wrong way. Inadvertently she meets "Bob" / X Ray Man (Michiel Huisman) but is so distrustful she treats their meetings like a game of charade; has she botched something genuine? Meanwhile Axl sets up apartment viewings with the estate agent Anthony Hemmings (Richard Lintern) who he is convinced is his father.

Squatting musicians, students, and artists set against quirky backgrounds all add to the rhythmic mix that is enhanced with music from lesser-known but very real local U.K. bands. When Axel and Vera's paths finally cross, each has come to a valuable realization. Dos Santos does not burden his film with a lot of dialogue, which is effective; he lets the music talk to us. In cadence with Jakob Ihre's clever use of camerawork, stills and special effects that Olivier Bugge Coutté deftly edits together, London Nights show us yet another idiosyntric side of life.