Starts September 2
by Karen P.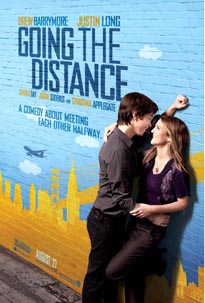 Film director, Adam Shankman's relatable film Going the Distance sheds a realistic light on the length one will go to up hold true love and honest commitment, when one finds the right mate for life. No obstacle is too great!
Erin (Drew Berrymore) meets Garrett (Justin Long) while on a trip to New York. The two fall madly in love. Ah! The simplicities of life! After their six week, whirlwind romance Erin must return to her San-Francisco-based home to decide on her future in journalism. The two love birds decide that in spite of the head knowledge and statistics that long-distance relationships have their demise, they sincerely believe that their connection has lasting merit. Erin and Garrett know they can beat the odds because their love is strong and true. They instinctively know that their search for the perfect partner for life is found.

The end of the summer thrusts both Erin and Garrett back into their normal routine and the 3,000 miles of separation prove to be more complicated than imagined. The first hurdle is to convince family and friends that the relationship is a positive experience for all involved. However, they are shocked to find that their advice-giving family and friends go to great lengths to emphasize the complexities of the long-distance romance and cast an overwhelming doubt that this is not a good thing. Not to worry, this only puts the sparkle into the story of Erin and Garrett that is like a journey of a comedy of errors. A ride not to be missed!