Starts September 2
by Mary W.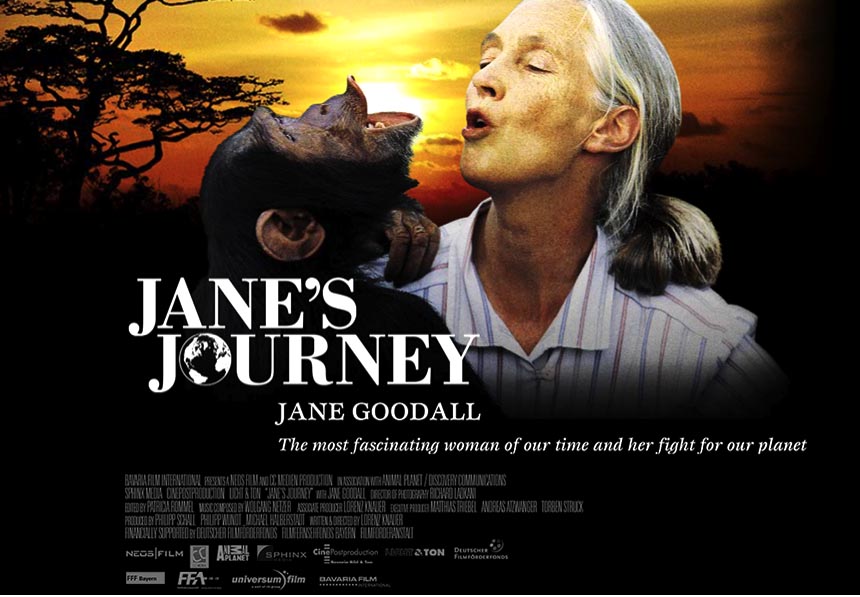 Although this film is a documentary about primatologist Dr. Jane Goodall, it is really a love story that gives us a glimpse of just how much Dr. Goodall loves animals and the world in which we all live. Her true love story begins in 1960 when at 23 she travelled to Africa and was lucky to meet Dr. Louis S.B. Leakey, a famous anthropologist and palaeontologist. Dr. Leakey was interested in chimpanzees and their potential link to human evolution. He chose Ms. Goodall for his study of chimpanzees in Tanzania (formerly Tanganyika). Thus began Ms. Goodall's life-long journey to learn about and protect chimpanzees, and her own evolution into an international activist for animals and our environment.

After a brief look at Dr. Goodall's young life and marriages, the film then focuses on her work over the last twenty years. Director Lorenz Knauer accompanies her around the world as she garners support for saving the endangered chimpanzees and protecting other wildlife. Dr. Goodall promotes The Jane Goodall Institute which was founded to protect the chimpanzees of Gombe National Park in Tanzania and highlights her efforts that include helping meet the needs of the local people with sustainable development programs. She speaks with young people about their projects that are part of Roots & Shoots, an organization that started in 1990, with the help of a group of Tanzanian students to interest young people in making a difference in their communities and in the protection of animals and the environment.

Dr. Goodall is tireless as UN Messenger for Peace and environmental activist. Her quick wit is peppered with humor and her natural charm combines with her message to motivate people to help save the forests in Tanzania or seek environmental solutions for the melting glaciers of Greenland. Travel with her from her home in Bournemouth, England as she spreads her vision of hope around the world. Well worth the journey!