Starts September 23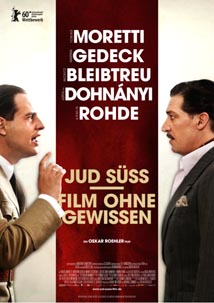 In 1925, the German writer Lion Feuchtwanger wrote a historical novel around an 18th century figure, the Jewish finance adviser Joseph Suess Oppenheimer, who served the Duke Karl Alexander of Wuerttemberg, later fell out of favour and was publicly hanged in 1738. This story was the base for Veit Harlan's film Jud Suess in 1940 projecting the Jewish race in an evil and devilish light. It became one of Germany's most famous films, shown with great success at the Venice film festival and seen by 20 million during World War II. As the film Jud Süß is still on the German film index list and not available for public viewing after 1945, it is very difficult to understand why it was such a success or why it had such far-reaching consequences.

Oskar Roehler's film Jud Süß – Film ohne Gewissen (co-written with Klaus Richter) looks at this background resulting in a film within the film by effectively using the black-and-white images of the 1940s. The story deals mainly with the personal conflict of actor Ferdinand Marian (Tobias Moretti) who accepts the role of Jud Suess. It shows the unscrupulous methods used by the propaganda machine, the subtle persuasion and the willingness of society to play along. It shows the circumstances of film-making in an atmosphere of anti-Jewish sentiment and pro-war propaganda.

Tobias Moretti is brilliant in his multi-faceted role as Ferdinand Marian, an ambitious but emotionally weak person. Moritz Bleibtreu's propaganda minister Goebbels on the other hand is monotonous despite his outbursts and wild gesticulating. Why did we have to watch him limping through his scenes again and again after already watching his dragging foot in a close-up? To portray him as a clown did not fit the otherwise serious theme.

I had been looking forward to a movie dealing with the making of the most anti-Jewish film during the Nazi regime which had such an impact on the German public at the time. Despite the dramatic action and the number of Germany's best actresses and actors such as Martina Gedeck, Moritz Bleibtreu, Justus von Dohnanyi, Armin Rohde, Robert Stadlober and Gudrun Landgrebe as guest, the film never convinces enough to touch emotionally. Roehler's film is technically well done and its controversies and open questions will give enough food for thought and will be good for many discussions. It premiered in the competition section of the Berlinale 2010.