Starts September 23
by Karen P.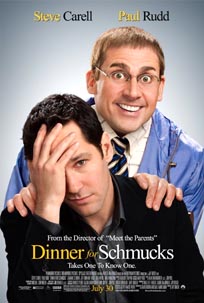 Film director, Jay Roach, presents on the silver screen a wild and vulgar story about how snobby, rich business executives go to great lengths to mock people who are less fortunate than they but have unique extraordinary talents in Dinner for Schmucks. The idea came from a 1998 French stage play The Dinner Game.

The young, creative, financial advisor, Tim Conrad (Paul Rudd) has an idea with the potential to make the company millions that he will share at the company's corporate business meeting. Tim works on the company's lowly fifth floor which holds the reputation of the boring worker-bee department. Tim has the aspiration to secure a newly vacated windowed corner office on the building's top floor held for special executives. Tim abruptly takes an inopportune moment to share his brilliant idea with his colleagues but is not taken seriously. His bravery knows no bounds and pushes through the verbal ridicule. Tim's tenacity has the ear of the company's top executive looking for a way to rally a failing third quarter financial report. At the close of the meeting, Tim is called into the windowed corner office by the company CEO, Lance Fender (Bruce Greenwood).

Congratulations are in order for his brilliant idea and then the CEO proposes a bargain. He invites Tim to a special dinner that he hosts once a year and he must bring a guest with a bizarre talent to be shared with the guests during the dinner. If Tim attends the dinner and his guest wins the most unique talent award, then Tim moves to the building's executive suite and will call the windowed corner office space his own. On the drive home, Tim decides not to attend the dinner because his moral conscious screams out that the idea is just wrong and no one should be made fun of under any circumstance. Deep in thought over his decision he accidentally hits a man, Barry Speck (Steve Carell), with his car just outside of the local taxidermy shop. Fortunately for Tim, Barry was pursuing a dead mouse lying in the street and did not see Tim's car approaching. Barry works for the IRS and loves to catch mice because his hobby is making elaborate stuffed mice communities that represent the world that Barry experiences. The AA-HA moment came,  so need one say more about the dinner game? From this point on, the story takes on several interesting twists of fate.