Starts October 28
by Carola A.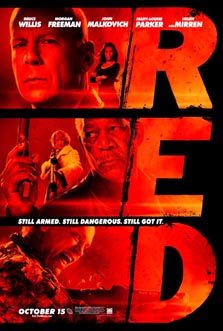 This fast moving and funny fusion of action, romance and comedy is based on a graphic novel by W.Ellis / C.Hamner. Retired top C.I.A. agents, played by a seasoned cast of A-list actors, become the agency's top targets.

Frank Moses (Willis) is the first to be catapulted back into action. He doesn't really know how to do retirement anyway, or how to have a social life. He tears up his retirement checks so he can order a new one over the phone and flirt with Sarah at the social security call center (Parker). With ease - delight actually - he puts a hit team that was sent to kill him out of commission, and sets out to find out who is behind this attempt.

Wanting to finally meet her and finding that she is in danger too, he first picks up Sarah, then gets in contact with his ex buddies. You want to applaud as they make their hilarious entrances, one by one each in their own good time: Joe (Freeman) lives actually rather contently in an old age home; Marvin (Malkovich to no surprise got the wackiest part) forever on guard at his special hide-out, and stylish Victoria (Mirren) takes on the occasional 'hit job' while pretending to run a bed & breakfast.

Labeled R.E.D., as in "Retired and Extremely Dangerous" they are also 'red hot': strong, skilled & sexy. And they have heart! Luckily they also can still rely on their connections from cold war times. Their young counterparts at the C.I.A. look just pale by comparison. Sarah is the only civilian in this band, but catches on quickly. For her this is living "Love's Savage Romance"- the title of her current favorite read. She is having a blast, and so will the audience. The lines are funny and delivered with great timing. Rarely has an action film been able to poke fun at its own genre as successfully as this one.
Direction: Robert Schwentke
With: Bruce Willis, John Malkovich, Morgan Freeman, Helen Mirren, Mary-Louise Parker