Starts October 21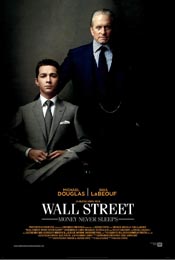 Gordon Gekko (Michael Douglas) is released from prison after serving eight years for insider trading. He returns to the real world, humble and repentant, the author of a book called Greed is Good. He goes on the book-signing-lecture tour, a lonely man: his wife has left him; his son died of an overdose; his daughter Winnie (Carey Mulligan) will have nothing to do with him. This changes when he meets Winnie's boy friend Jake (Shia LaBeouf). Jake is a Wall Street broker, an employment which Winnie accepts in spite of rejecting her father for holding the same job, possibly because Jake supports renewable energy companies. He is affiliated with Keller Zabel Investments; the founder Louis Zabel (Frank Langella) is his mentor. Zabel commits suicide after learning that his company will go under due to a takeover by Churchill Schwartz Investment Bank led by Bretton James (Josh Brolin). Jake stands to lose everything and goes to Gekko for help and he already has a plan. Is he really the remorseful ex-convict, or has he been waiting for this opportunity to emerge as the immensely rich and powerful manipulator that he once was?

Thus we come full circle to director Oliver Stone's original 23-year-old Wall Street film, also starring Michael Douglas. The new film is a sequel, not a remake; it takes the action further. It stands alone. One need not have seen the first version in order to enjoy this one, although it was fun for me to re-watch the older film in conjunction with this one.

Douglas is believable in the role of an elderly power player who refuses to relinquish control and seeks recognition. You hope that he wins, even knowing that his actions are probably illegal. Young actors, LaBeouf and Mulligan, shine in their innocent roles. (It's interesting to discover parallels between LaBeouf and Charlie Sheen who was Douglas' fall guy, Bud Fox, in the first Wall Street). Filming was solely on original sites in New York City. Oliver Stone said that brokers were much more friendly and helpful with this second film. The topic is more pertinent than ever since the 2008 worldwide financial disaster caused by real estate and banking speculation. (Susan Sarandon plays a real estate agent.)

Perhaps a shorter film would be more effective, but the trend these days seems to be two-hour films. This one is 134 minutes. There is much trader-babble or stock-speak from "arbitrage," "assets" and "agent" to "yield," "warrants," and "volume" and everything in between, not to mention "bear" and "bull" and "bail out." This adds color and authenticity to the overall impression, but is kind of like listening to Na'vi in Avatar: you really don't have to know the actual meaning, just relax and let it flow over you. Otherwise, there would be subtitles. Right? You will understand such sage comments as "Let's go, Let's go, let's make some dough." Or that old Ninja saying: "No Income, No Job, no Assets." Or "Good day, I'm okay; bad day, I'm okay." "Make money on losses." And that famous Bill Clinton quote: "Because I could." There is also talk of "moral hazards," which will drive you to putting your "assets" in an old sock under your bed.