½
Starts October 21
by Osanna V.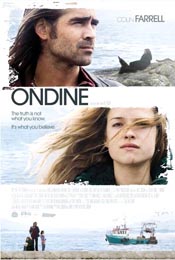 Neil Jordan (The End of An Affair, The Brave One) directs Colin Farrell (Phone Booth, Crazy Heart) and Alicja Bachleda-Curus (Trade) in a modern day myth, set in Ireland. Jordan also wrote the screenplay.

Fisherman Syracuse (Farrell) pulls in a surprising catch one day: a half-drowned young woman (Bachleda-Curus) who reluctantly gives him Ondine as her name. Mystery immediately surrounds her, as she refuses to go to the hospital or be seen in public, so Syracuse agrees to let her stay in the remote cottage where his deceased mother used to live. For Syracuse's handicapped daughter, Annie (Alison Barry), it's clear that Ondine is a magical selkie – a seal in the ocean and a woman on land. And strange things do seem to happen when Ondine is around – not least that Syracuse starts pulling in astounding amounts of lobster and salmon. At the same time, a dark-haired, malicious stranger appears in the village, obviously looking for Ondine. Syracuse is torn between believing that the young woman he is falling in love with is truly a mythical creature and the reality of a tough world where fairy tales have no place.

Ondine is quite an intense story though it lacks high-paced drama. It is the relationships between the characters that works best, thanks to all-round convincing acting.