Starts October 14
by Osanna V.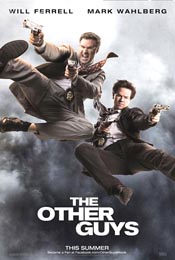 Adam McKay (Anchorman: The Legend of Ron Burgundy) directs Will Ferrell (Stranger Than Fiction) and Mark Wahlberg (The Departed) in an amusing crime caper built around a less than amusing premise.

Police officers Gamble (Ferrell) and Hoitz (Wahlberg) are very disparate partners: one is the perfect paper pusher, the other a frustrated man of action. What starts out as an arrest for building permit violations, turns into a series of outrageously implausible yet entertaining exploits, and ends up uncovering a dirty financial scheme à la Bernie Madeoff. The statistics offered during the final credits are a sober reminder of the relatively recent upheavals on Wall Street.

As ludicrous as certain aspects of The Other Guys are, the movie was entertaining and will, no doubt, be enjoyed by fans of this genre.