Starts October 7
by Birgit S.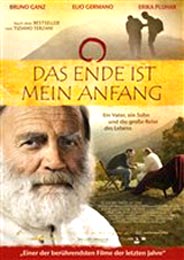 65year-old Tiziano Terzani (Bruno Ganz), once an agile and restless journalist, prepares himself for his "last adventure", closing the circle of life. In the peaceful setting of his secluded home in Tuscany he awaits his son coming from New York. He wants to talk to him about his life – and he wants Folco (Elio Germano) to publish a book with his thoughts, ideas and beliefs.  

They start their long sessions overlooking the green hills of the Italian countryside. The old man talks, the young one listens, interrupting with comments and questions. They had not seen much of each other during the last years. Old grievances come up and they have to get to know each other again. In time they realize that they have more in common than divides them. Tiziano's wife Angela (Erika Pluhar) is always a calming presence in the background. When daughter Saskia (Andrea Osvárt) arrives with her little son the tranquillity is temporarily interrupted. For the old man the circle of life is closing. His three years in the Himalayas have helped him to be at peace with himself. Tiziano Terzani dies in July 2004 surrounded by his family. His ashes are thrown to the winds from atop an Italian mountain by his son Folco.

Tiziano Terzani was a fascinating personality, a world renowned author, talented journalist and also the Southeast-Asia correspondent for the German "Spiegel" magazine. With his family he had lived in Singapore, Japan and India and was one of the first western journalists allowed into China in 1980. After his stay in India the teachings of Mahatma Gandhi became a great influence in his later life.
 
Folco Terzani and Ulrich Limmer wrote the script for which the book of the same name was successfully condensed to the most important key points. German director Jo Baier's adaptation turned out a sensitive and moving film with excellent camera work by Judith Kaufmann.  Bruno Ganz's acting is a "tour de force" captivating the audience with his long monologues and a touching performance. The young Italian Elio Germano is a perfect match in this father and son story.