1/2
Starts November 25
by Carola A.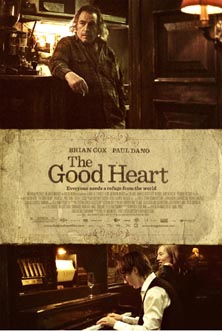 Two unlikely men find themselves in the same hospital room: Jacques, choleric owner of a dingy NYC bar, has had another heart attack. Soft-spoken Lucas, gentle and afraid of his own shadow just survived a suicide attempt. Jacques, aware that his heart may give out at any time, sees in Lucas a worthy and mouldable apprentice and heir to his establishment. He gives him shelter and starts instructing him; he has many rules and some interesting psychology to pass on; his orders are to the point, mostly 'politically incorrect' and incredibly funny.

The bar, aptly named "The House of Oysters", serves as a get-together for a handful of peculiar regulars. The atmosphere is captured beautifully, filled with the rough and teasing easy back and forth talk only possible among men. The approved clientele also includes Jacques' dog (Best Animal in a Supporting Role) and a goose 'marinated with cognac from the inside out'. Lucas is being informed, that they 'don't do walk-ins' nor permit women. Watch the dynamics change when he does anyway and invites April in! All the while Jacques knows he needs to change from a "dirty old bastard with filthy habits", if he wants to live. And he tries. Relaxation tapes, though, work better for his dog; group therapy makes him angry, single sessions leave him clueless. What does change him is being around Lucas; this dawns on him after he realizes that he has taught his apprentice too well and needs to correct his course.

This touching and amusing tale shows that the blind can lead the blind. Dagur Kári (script / director) plays with the literal and proverbial sense of words, visually by adding colors back (they have for the most part been filtered out) at a point, when Jacques quite literally applies a parable for happiness he learned in a therapy session after all. Delightfully written, directed and performed the roles of Jacques (Brian Cox) and Lucas (Paul Dano), surrounded by a great cast of supporting actors; April's part (Isild Le Besco) unfortunately is not convincing.
With: Brian Cox, Paul Dano