Starts December 30
by Marinell H.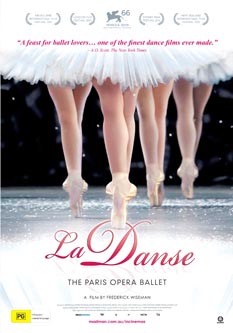 Leave it to Frederick Wiseman to choose a protagonist on this grand scale. Although a cinéma vérité maestro, in this documentary his treatment is Direct Cinema (recording events in which the subject and audience become unaware of the camera's presence); he takes us into the heart of the Opéra de Paris and, nooks and crannies of its home since 1875, the Palais Garnie.

Sans-narration à la Wiseman, we observe the company practice and prepare seven ballets for the forthcoming season. It is by way of subtleties that we realize the passage of time. Inter-cut is footage from the corps de ballet, the administration, and all the behind-the-scene personnel that pulsate through, and comprise the Palais Garnie. Choreographers rehearsing dancers; costumes or papier-mâché accouterments being created; the artistic director conferring with a ballerina; wholesome, if not enticing to us, food being served in the cafeteria; an evening Gala event; planning American financial donors impending visit; laundry room labor; the orchestra warming up; stage lights being set; on-stage rehearsals, plus those where we eavesdrop on choreographers critiques of dancers; positioning props, and dancers being dressed; union negotiations about retirement benefits; the audience and, an actual performance… just wish I had not seen the gist of it in a previously shown dress rehearsal.

The grand ol' dame (is Palais Garnie a 'dame'? — should be if it is not) gives us some memorable footage: dimly lit underground corridors, waterways, and particularly that of a beekeeper tending a hive with Parisian rooftops in the background. Too bad some B-roll shots are negligible, and Wiseman leaves too much to trust; no prior knowledge of either ballet, or live performances, and the Palais (commissioned by Napoleon III in 1858, it covers almost three acres and is seventeen stories high with seven below ground), is conducive to dissatisfaction, especially considering the time investment. But then, being behind-the-scenes is more gruelling than any audience could ever envisage, or want to.