by Becky T.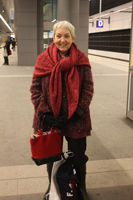 Documentary films tell us about real people and real lives. That doesn't mean that we must care about them or even watch the film. Some documentaries, however, are fascinating, because they open up new worlds. For me this was Arias with a Twist: The Docufantasy because I learned about two fascinating artists whom I'd never heard of before, and that's what movie-going is all about.

Joey Arias and Basil Twist collaborated in 2008 to produce a show for New York City and the U.S. West Coast called "Arias with a Twist." Their collaboration is unusual because Joey is a cabaret singer and drag artist who "lives to twist your perception" and could "even charm a Republican." His "erotic cabaret is not your usual tit and ass show; he wears his body like a robe." Basil Twist is a third-generation puppeteer from California, who studied three years at the École Supérieure Nationale des Arts de la Marionnette in Charleville-Mézières in France. His puppets are life-sized and I wondered how he kept the various puppet strings apart and all going in the right direction. The film flashes back to their beginnings in New York City: Arias' work with counter tenor Klaus Nomi and Twist's life-sized puppet interpretation of Hector Berlioz "Symphonie Fantastique" performed underwater to live accompaniment by renowned orchestras. I am sorry that I discovered them so late, but now I know and will watch their careers flourish.

SOS State of Security was the opposite of flamboyant Broadway stage lights. Director Michèle Ohayon and Richard A. Clarke, advisor to four past presidents and author of Against All Enemies, joined to reveal how politics and the press failed to tell the American public the truth about security. U.S. security dealt not only with Iraq and Afghanistan, but also with Yemen, Eritrea, Ethiopia and the Sudan. From the many issues discussed, two stand out for me. First, the film makers believe that the prisoners in Guantanamo should be tried before regular U.S. courts. So far 200 terrorists have been successfully convicted this way with the full support of lawyers and U.S. civil rights. The military courts (which Clarke calls "kangaroo courts") have taken care of only a few terrorists. Second, the press has the obligation to tell the truth and ask the difficult questions, something it did not do after 9/11 when there was a reluctance to take responsibility and a false sense of "we are all together in this." Ms. Chayon said that it was difficult to interview people for the film due to the so-called Michael Moore syndrome. Nowadays, people fear they will be made ridiculous as they were in Moore's films. Richard Clarke, the only person to publicly apologize for the failure of the government's intelligence network, prepares young people for jobs in politics and journalism, so perhaps there is hope for the future.

Not all documentaries are fruitful or even a bit interesting. In Gay Days Yair Qedar praises the progress of liberal-thinking Israelis and discusses the remaining problems faced by homosexuals in Israel. In every country gays gain recognition in tiny steps, first with meetings, then with parades, then with laws; Israel is no different. More power to them, but what will they do about the orthodox Jews whom we met in Eyes Wide Open where homosexuality is not a sin because it "doesn't even exist" and the only solution is suicide?

In a short film by Bettina Schoeller, Wo ich bin ist oben, the camera follows grandma on vacation to Spain. Granny lets it all hang out, becoming more outrageous from shot to shot. Later we learn that granny died nine years ago at age 93. Who cares? The English subtitles, which were done by our own Marinell Haegelin, are the best part of the film.

That leaves us with Rock Hudson, Dark and Handsome Stranger by Andrew Davies and André Schäfer. Nothing new here in 95 minutes. Hudson died in 1985, the first prominent person to die of AIDS, with his homosexuality an open secret, at least in Hollywood. His fans supposedly knew nothing about his secret life and thought he really did dream about Doris Day on a pink pillow. After collapsing in the Ritz during the Deauville Film Festival, Hudson's management spent $250,000 to fly him home from a Paris hospital when French doctors gave up on his illness. The film goes through many of his films at great speed from Magnificent Obsession in 1954 to the Mirror Cracked in 1978 with Giant (1956), Pillow Talk (1959) and nine more in between. In the same way it goes through his steady boy friends including San Francisco writer Armistead Maupin (who lasted four years: 1976-1980), Tom Clark, and, in the end, Marc Christian, who picked up the inheritance including the house with the famous swimming pool full of frolicking homos, and the record collection. This film is as bland and uninteresting as the press releases during his life time such as Time Magazine in 1955, "Hudson smells of milk," and Life the same year, "Hudson turns 30 and why isn't he married?" Perhaps the filmmakers are not to blame that the film is boring; their subject was perhaps not very bright and definitely boring.