1/2
Starts January 13
by Brenda A-R.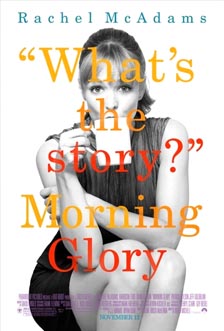 After losing her job at a New Jersey morning show, smart and spunky Becky Fuller (Rachael McAdams) is determined to succeed when she is reluctantly hired on for the Manhattan based "Daybreak"  show by an IBC executive (Jeff Goldblum) in a last ditch effort for a fresh perspective. "Daybreak," is hosted by veteran Colleen Peck (Diane Keaton) and obnoxious Paul McVee (Ty Burrell), whom Becky promptly fires. This endears her to the staff and earns the admiration of producer Adam Bennett (Patrick Wilson).
Searching for a replacement to fill McVee's slot, Becky finds a loop hole in anchorman, Mike Pomeroy's (Harrison Ford) contract that forces him to accept any job offered by IBS in order to collect on his multi-million dollar contract. Mike is pompous and cynical, refusing to report fluffy soft-news stories and banter back and forth with contentious Colleen Peck. Becky uses every quirky idea to make the program more relatable and funny all the while using all she has to improve the ratings in order to save the show from being cancelled.
Morning Glory written by Aline Brosh McKenna (The Devil Wears Prada) shows what it is like behind the scenes of a TV Show. Rachel McAdams plays the messy, work-obsessed girl and Harrison Ford plays a good, cranky, and arrogant grumpy older man. While their relationship is endearing, and the movie is somewhat predictable, the cast of characters does provide some good laughs.