½
Starts March 17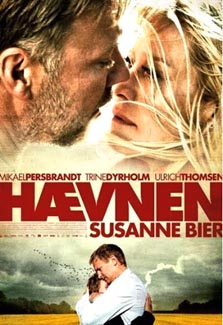 The African heat and dust seep off the screen and into our pores as Anton (Mikael Persbrandt) is jostled while driving to the remote refugee camp where he saves lives. In pristine Denmark, where Claus (Ulrich Thomsen) has returned after his wife succumbs to cancer, a remarkably poised ten-year-old Christian (William Jøhnk Nielsen) reads his mother's eulogy. It is the same small town that Anton commutes to, where his (now estranged) wife Marianne (Trine Dyrholm) and two young sons live. Like the African heat, malevolency imperceptibly seeps into their lives.

Their oldest son Elias (Markus Rygaard) endures relentless bullying at school. Until, that is, Christian shows up, and stands up for him. A friendship is easily forged between Elias, distraught and forlorn over his parents impending divorce, and bereft Christian, whose pent-up rage against his father drives him to lead them on an unchartered slippery-slope course. Their initial fray throws their parents, stymied by their own personal conflicts, together; they grope, in adult fashion, to deal with these naughty boys. But Christian, with Elias's help, has a bigger target and a bang of a solution on how to handle him. Yet they are unprepared for how far revenge can be taken, and the full, sorrowful meaning of tragedy.

Deftly directed by Susanne Bier, who wrote the screenplay with Anders Thomas Jensen, it is with insightful skill that the dilemmas are probed: revenge vs. walking away; how much to compromise one's integrity for a friendship; forgiveness with no strings attached. The acting is understatedly excellent, Morten Søborg's cinematography judicious, and Johan Söderqvist's original music in concert with Pernille Bech Christensen and Morten Egholm's editing take us from one continent to the other without our having jet lag. Without moralizing the complexities of the prickly sides of human nature, the empathetic clarity with which alternate perspectives about relationships, between fathers and sons, men and women, friends, enemies, strangers, is food-for-a-long-time thought, and worthy of the Oscar©.