1/2
Starts March 17

by Osanna V.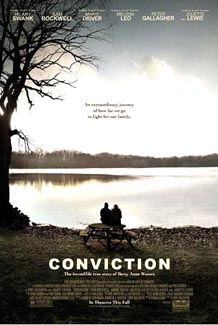 In 1980 the murdered body of a woman is found in a trailer home on the outskirts of Ayer, Massachusetts. Two years later, Kenny Waters (Rockwell), known for his volatile temper, is arrested and sentenced to life. Traces of Kenny's blood type found at the scene, and the testimonies of two women (one the mother of his daughter) who say that he admitted to the crime, is the evidence against him. Kenny's sister Betty Anne (Swank) never doubts his innocence, however. When it's clear that an appeal and decent defense will cost too much money, Betty Anne decides to finish high-school and then study law herself.

At the cost of her marriage and the loss of her kids, she battles on and finally passes the bar. By then, however, over ten years have passed and she is told that all the evidence from the case has surely been destroyed. Convinced it can not be, Betty Anne persists and does manage to locate the bloodied items. With the support of the Innocence Project in New York, and thanks to newly developed DNA testing, it is confirmed that the blood did not match Kenny's. Sure that her brother will now be freed, Betty Anne is shocked to discover that the local judge and police themselves have reason not to have the case re-opened...

With totally convincing performances by Hilary Swank and Sam Rockwell, Conviction is a disturbing film that underlines that, while life is unpredictable, conviction, determination and hard work will almost always produce the hoped-for outcome.
Tony Goldwyn directs Hilary Swank and Sam Rockwell in a movie written by Pamela Gray, and based on a real-life drama.