Starts April 28
by Birgit S.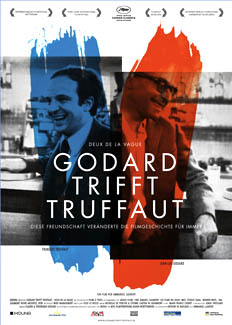 Emmanuel Laurent's documentary is a detailed exploration of the friendship between Jean-Luc Godard (born 1930) and Francois Truffaut (born 1932, died 1984). They are the initiators and most celebrated directors of the Nouvelle Vague (French New Wave). This collage of magazine clippings, newsreels, TV interviews and a fascinating string of film clips is written and narrated by film critic Antoine de Baecque who is also an authority on their biographies.

The film starts with an exciting footage of Cannes in 1959 showing Truffaut's triumph of Les Quatre Cents Coups (The 400 Blows) that also became French actor Jean-Pierre Léaud's big break. The young and charming Léaud is the third person in the relationship between the two directors. He admires them. They are both like a father for him. We see a number of footage with him. He gets torn between his "fathers" as each is claiming him for his films.

Godard and Truffaut started as film critics writing for the French magazine "Cahier du Cinéma". After Truffaut branched out as a successful filmmaker he helped his friend Godard to become a director by offering him the screenplay for A Bout de Souffle (Breathless). This unconventional, romantic melodrama of love and betrayal with Jean Seburg and Paul Belmondo attracted much attention for its bold filming with a hand-held camera as well as the innovating editing with "jump cuts". Impromptu interviews at the theatre directly after the screening show the reaction of the public: Some ladies calling the film "shocking".

The actress Isild Le Besco occasionally appears on screen paging through newspaper and magazine clippings or visiting historical spots of Paris. I feel this is more confusing then helpful as one wonders what her connection is supposed to be.  

The documentary focuses on the early years of Godard and Truffaut when they worked closely together during the 1960s, loyally supporting each other. The friendship suffered as they eventually go in different directions and become competitive rivals. After the 1968 student riots in Paris, Godard's work gets increasingly political. Truffaut continues on his own, receiving an Oscar for his film La Nuit Américaine (Day for Night) in 1973. The clash of personality and character comes to a head as Godard feels their mutual idea has been betrayed by this "un-political" film. A bitter battle of words results in the final break-up of the friendship.

Laurent's Two in a Wave premiered at the Film Festival Cannes in 2009 exactly 50 years after Truffaut's debut of The 400 Blows. The extensive biographical information and rare period footage of historical events – which sometimes is overwhelming by its sheer volume – will mainly be appreciated by film buffs. It is inspiring to see excerpts of great films from the heydays of a friendship that made "waves" in the world of cinema.