Starts April 7
by Jeanette J.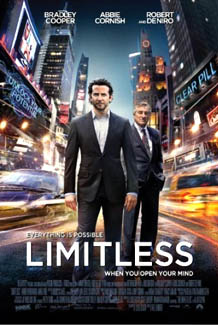 Maybe it's a subliminal thing, but this movie left me days with a writer's block that only a good dose of ice-cream could break.

Limitless is a mind-bending, action-packed thriller starring Bradley Cooper, Robert De Niro and Abbie Cornish. This film has more movement than a roller coaster and anyone prone to motion sickness, might need a pill.

This trip begins with Eddie Mora (Cooper) trying to break a serious case of writer's block.  Despite the prospects of a book deal; Eddie can't seem to get one word out of his mind and onto some paper. But, things quickly go from bad to worse when Eddie's girlfriend (Cornish) walks out on him, and an old friend with a magic pill, enters the picture.

Eddie pops the pill and the journey begins. His mental capacity accelerates faster than a sports car on an open road with no police. Eddie zooms through his book, turns thousands of dollars into millions, and jumps into some high stakes financial games playing with the big boys of Wall Street, like Carl Van Loon (De Niro). All appears to be going well until Eddie realizes that this magic pill has some nasty side effects; some medical and some material.

This movie is intense from the first scene to the last. I give it four intense stars because of the movement, the layers of meaning, the plot and the delivery. And, let me just say that if Cooper was a drug, right now I would be fighting rehabilitation. He is one gorgeous man!

Overall, my take away from this film was this; that even with a magic pill, the only thing that can come out of you is what is already within you.