Starts April 14
Original language: English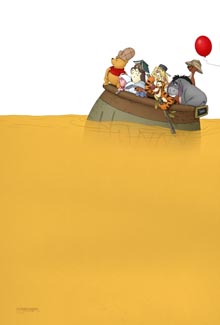 Wow! It's been 35 years since the adventures of Winnie the Pooh from the Walt Disney Animation Studios has emerged onto the silver screen. So, back by popular demand, the celebration to reunite Christopher Robin (voice of Jack Boulter), Winnie the Pooh (voice of Jim Cummings) and their fine furry friends from the Hundred Acre Wood has begun. To mark this special release, the Disney Studio, under the direction of filmmakers, Stephen Anderson and Don Hall unveil another delightful tale from the inspired stories of A.A. Milne's books in Disney Classic.
The narrative opens with Winnie the Pooh waking up from a good night of rest and, feeling a rumbling in his tummy, says, "Pooh Bear takes care of his tummy by never forgetting to eat." On this particular day, no form of honey could be found in Pooh's house. In his search for a big pot of honey he goes to visit the neighbors. On his way, he meets his good friend, Eeyore (voice of Bud Luckey). Pooh finds out that Eeyore has troubles of his own: his tail is missing. Pooh feels so sorry for his friend and offers to help. Pooh Bear calls for assistance and enlists their good friends Tiger (voice of Jim Cummings), Owl (voice of Craig Ferguson), Piglet (voice of Travis Oates), Rabbit (voice of Tom Kenny), Kanga (voice of Kristen Anderson-Lopez) and Roo (voice of Wyatt Hall). The Hundred Acre Wood inhabitants together embark on an unforgettable quest to help Eeyore find his missing tail.
In the process of helping Eeyore, the group gets side-tracked by a few misadventures. One calamity being that Christopher Robin needs to be rescued from a bad guy named "Backson." Their well-intended efforts end up in chaos due to their friend, Owl being the perpetrator of a big misunderstanding. At the end of the day, the mission to find Eeyore's tail is renewed with rigorous momentum because he is still in need. The search seems like an eternity to Eeyore but is comforted by Pooh's words of encouragement, "If you find yourself missing something important, like a tail, always remember that it can take a lot of trying to find the right ending. And, even in the rumbliest of times, a good friend should come before a rumbly tummy."
Winnie the Pooh's executive producer, John Lasseter, notes, "We always set out to make a movie that will transcend generations—appeal to kids, entertain their teenage brothers and sisters, and make Mom and Dad laugh out loud." In my opinion, their goal is accomplished with a combination of creative animation and charming music. The actress/musician/songwriter/singer Zooey Deschanel performs an adorable rendition of the beloved "Winnie the Pooh" theme song. The feature's music selection made way for smooth transitions to develop the storyline much like a mini- musical, or like a sing-a-along morality tale when, Pooh says, "It's good to face your fears, particularly when you've been hiding from them for a while."
The original illustrations by E. H. Shepard continue to be the inspiration the Disney animators use to make the characters pop-off of the page—literally! Disney's veteran animator Burny Mattinson was the senior advisor to dynamic directorial duo of Anderson and Hall. I thought there even might be an educational subliminal message with the use of the letters of the alphabet-- to encourage reading, or to emphasize its importance. Well, I think many parts of stories are left to the imagination. One thing we do know, Pooh Bear has a good heart! He might be a little slow but he describes himself as, "A bear of very little brain; long words bother me." But, he truly believes his formula for life by encouraging Eeyore that, "The Thing to Do isn't the easiest Thing To Know."  On Pooh's words of wisdom here rests another day of adventure in the Hundred Acre Wood.