Starts May 12
by Amanda W.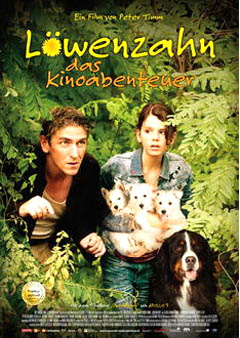 The original TV series, directed by Hannes Spring, featured an elderly man, Peter Lustig, who lived in a caravan and entertained children, while actually educating them. This idea carries over into the film version by Peter Timm, which features Fritz Fuchs (played by Guido Hammesfahr); however, the film differs in that it focuses more on a mixture of non-stop thrills and adventures. The film starts with a flashback: two children on an archaeological dig discover an ancient treasure. One child is happy to have made a scientific discovery while the other greedily considers how rich he will become. Suddenly there is an accident in which one child is trapped and the other runs off, leaving the friend to his fate. Happily he is saved by his good dog. The years pass and everything is forgotten. The film continues to be action packed and the ultimate aim is to recover the ancient treasure, but we don't know that until the end.

Laila (Ruby O. Fee) goes on holiday in a small village with her Aunt Yasemin (Sanam Afrashteh), innocently unaware of how exciting this holiday will become. At the moment, she is only concerned with the rescue of three puppies with the help from Fritz Fuchs. Fritz is searching for an evil character (Dominique Horowitz) who stole some plans from his caravan.

I think the film is a bit hard on the police, but still, the good guys win and the bad guys lose, for whatever that means. Overall this is an entertaining film worth watching. There are references to science and abstract thinking. It is a very competitive, Hollywood, action, adventure, sort of film, but also a little disappointing for those who love a mixture of entertainment with education.