Starts May12
by Birgit S.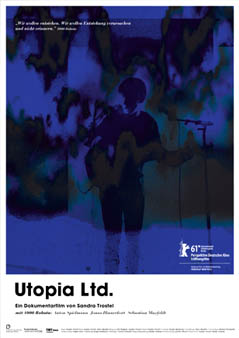 The 10th year of the section Perspektive Deutsches Kino (New German Cinema) section at the Berlin Film Festival opened with a documentary film. In Utopia Ltd. Sandra Trostel, who until recently worked as a film editor, accompanied the Hamburg punk band "1000 Robota" on their path to become professional musicians.

Anton Spielmann (singer, guitar), Jonas Hinnerkot (bass) and Sebastian Muxfeldt (drums) form their band while still at high school and have to combine schoolwork with their love of playing music. They are enthusiastic and sign up with Tapete Records where the 18-year-old lead singer Anton has started an internship. All starts well, the rock band is gaining public exposure and a gig in London brings them in touch with the "big wide world". There they are caught up in organizational difficulties and can hardly make enough money to pay the hotel. Other people start getting involved in discussing what the band should sing and how to perform. There are heady disputes about the future direction of their music style and the commercial aspect it entails. Frustration mounts. The three youngsters fight for their individualistic style. Will they be able to realize their dreams?

Sandra Trostel's directorial debut gives a good example of the struggle for self-definition in the highly commercialized music world showing how difficult it is to stay artistically independent. It is all about marketing and conforming to expectations of clients and financial supporters.